Joined

May 28, 2014
Messages

242
Country Flag
My inner cv joint casing has up/down play in it and I think this is the cause of a loud clunk noise I get this past yr or more.
Is it difficult to rebuild the front diff? I see Roughtrax have a rebuild kit which I'll likely tackle with a friend, appreciate any tips from members that have rebuilt theirs before.
Which bearings in the kit are the ones that the inner drivershaft splines roll on?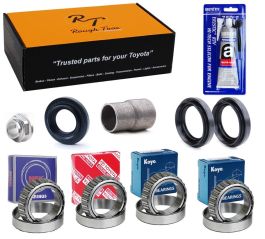 Models with a Standard Front Differential.

www.roughtrax4x4.com
Would worn driveshaft bearings where the shaft enters the diff result in a loud clunk particularly after having sat overnight and when first set off making a little turn out of my parking spot.
See pics below to describe what I've found having removed the passenger driveshaft.
Should I have up / down play on the tripod casing?
Is that bearing rub mark highlighted in pic just normal mark or is it a sign of something not running straight?
It's not very obvious in the pic either, but there a little blue marking at the inner spline end of the shaft and also some of the splines look a little bit rubbed, but not bad at all, but could all be a sign of bad bearing and not running straight I'm thinking.
I removed the dust seal from the driveshaft outlet of the transfer box, but I don't see a bearing that I can remove from the outside, is it inside?
Is that piece with the holes in it a bearing?
It's not easy to see in the pic, but there's 2 score marks highlighted, are they a sign of something not running straight?
Also, there a sharp / razor like edge on the bottom semi-circle of the outlet hole highlighted in pic, this suggests the driveshaft isn't running straight and rubbing the surface?