Joined

Jun 25, 2018
Messages

40
Country Flag
What is Dusted in Land Cruiser talk... well I will try to explain via a story. I think you will find this interesting.
My daughter and son-in-law with their two pre-school children commenced a
'round-australia'
for 12 months towing a caravan. They commenced their adventure about Christmas '17. But I need to take you to their prep period a few months earlier, so you have a complete picture.
Dong, who I shall call my son-in-law, (and I'll refer to my daughter as Ding purely for reference as I love them both very dearly) owned a twin-cab Mitsy which he bought new. This was going to be his and Dings' tow vehicle on their upcoming '
round australia'
. He asked my opinion and I answered "
if you stick to the sealed road you should be ok but it will be hard work for the Mitsy and you will want to flog it very likely before you finish your trip".
"
Well, what would you do"
he asked. Of course I replied, "
buy a Land Cruiser, I'll help with the purchase".
So with that, Ding and Dong went looking for an affordable Land Cruiser. They found a couple of probables and made offers but none completed to a purchase.
Finally, they found the LC of their dreams in NSW, we are situated on the Gold Coast. It was equipped for off-road work/touring/caravan hauling you name it. Its colour is metal charcoal, almost black. It had the meanest looking tyres you ever saw on a road machine with four on the road one on the back swing attachment and one on the side enclosed roof rack, painted the same colour as the LC. It had a bull bar, also colour coded which assembly wrapped around each side if the car and was equipped with two or three driving lights that would have illuminated a small outback town. Big winch in front, draw assembly in the rear of the wagon with a 12 volt frig atop the draw assembly. You know, full ARB fit out and only 120,000k on the clock and only $45,000, what more could you ask for. "
What do you think Pop...
he showed me some photos ...
we had an NRMA pre-inspection report done and it shows up the prize of the year".
I said
... "Looks like its done a lot of work to be equipped like that, I'd want to look a bit closer at the motor".
Dong said "
naw, we bought it, the inspection report was faultless.
Translated that means, what would you know you old fart. A week later and it turned up on the back of a truck and it did look very nice, I swallowed my tongue.
Now back to the '
round australia
'.
Ding, Dong and the Dinglettes, had now near completed Tasmania and called us and asked if we wanted to meet them in SA and spend a couple of weeks touring with them. We agreed and set off in our own caravan being towed by a current model LC200 VX.
Before we had arrived at the meeting point we had a call from them saying that Ding and Dongs LC was blowing clouds of smoke and using two litres of oil every 500 kls. Dong said that they had called in to a mech shop and were told they needed a new motor cost $28,000 - $30,000 depending on the condition of the turbos, being dusted he said.
I told Dong not to worry as LC were good for 500k before you needed to spend a penny on them.. "
Probably a turbo seal"
I said
.
We were a long way from home and about 2000k from a friend of mine who lived in southern NSW and who was also a diesel mechanic. I called him and he thought the same as me, probably a turbo problem. Both of us were well experienced with Land Cruisers but had not worked on or removed a V8 diesel engine from a wagon before.
We all met at my friends place and after settling in, we carried out a compression test (which I think is essential to all pre-purchase test reports) on Ding and Dongs wagon. Not good, left-hand bank 10 - 20 psi in the four pots and right hand bank 200 or so psi each pot.
We agreed that the old mech that Dong had called in on was right... the motor was shot, but we still did not come to terms with the
'dusted
' bit as yet.
I made enquiries about a new LC200 crate motor which was $18,000 odd delivered. Delivery would be three or four days, after all we were in a small country town. I ordered and paid for the motor. In the mean time my friend, me and Dong prepared to take the motor out of the wagon. We removed the front end of the wagon to ease and facilitate the engine removal. We unplugged all of the electrics and sensors from the old engine. We dropped the transmission cross member to lower the transmission and angle the motor. As we did all this we found that there was a huge amount of red dust in all areas that were hidden by cross members, cavities and the like. We had concluded that the previous owner to Dong had, as I had suspected, done a lot of off-road dust work, probably with an off-road club. He must have had suspicions that the engine was losing compression so he had the wagon very meticulously steam cleaned and no one would suspect that the wagon had been trashed.
We commenced dismantling the motor as we were told that the crate motor was bare of any electrical component and fuel system component other than the fuel pump. This meant that we had to dismantle the starter motor, the alternator, air filter, catch can, intercooler, air-con assemblies, intake ports, common rails and all sound proofing. When we opened the intake ports we saw the problem in real life. The sludge that was caked on the intake ports was more than 5mm thick oil sludge. Dust was being sucked in ( the wagon had a snorkel on it) through the air filter area into the ports where the dust was being mixed with oil from the sump being breathed topside becoming a paste that destroyed the left hand side of the engine. Why only the left hand side.... This is due to the design of the intake ports and the way in which the engine is made to breath. In order for the harmful dust to get into the right hand side of the engine was by very acute twisting of the air being breathed. The old saying,
the easiest path
for the air intake.
We finally removed the engine and placed it on blocks. we removed the exhaust manifolds and turbos. Interesting that the right hand turbo was as new but the left hand turbo was completely shot. The vanes were almost ground down to nothing and were paper thin on the leading edges. We sent them away to a specialist who rebuilt both turbos at a cost of some $2,000. It was not worth putting in any of the parts from the old motor that were not new or reconditioned or checked for operation and wear. This was because the engine had to be removed to properly work on it. For instance, the engine has to be removed to work on it or dismantle the starter motor, the turbos, very likely the alternator unless you are a contortionist.
When the new motor arrived we noted that it was identical to the 2008 LC200 that was removed from Dongs wagon and it was identical to the engine in the new 2018 LC200 VX not one bit of difference. Maybe the sensors were a bit more refined and maybe one or two more sensors in the new VX but that was it.
We thoroughly steam cleaned all the wagon and existing parts , catch can and hoses and we transplanted all the needed parts from the old motor to the new. We noted the numbering on all the injectors which were supplied new with the crate engine. We installed the new motor into the wagon and reassembled the front end. It was starting to like its former self.
After completion of engine installation and all body works we recharged the air-con and started the engine. All ok but we had to yet programme the injectors. The engine was blowing a lot of smoke and we could not work out why. We programmed the injectors, still blowing a huge amount of smoke. We sought opinion from others without any conclusion. We thought it may be one or the other of the turbos but both were working ok. We dismissed any problem with the piston rings as we thought that Toyota would not be so stupid as to release a bad engine. Finally, we saw that the oil that was on the inlet pipes was old oil. This could not be from the engine as all new oil was put in. We finally worked out that the irregular breathing of the old worn out motor had pushed old oil into the intercooler which for obvious reasons we did not pressure clean. We did however drain the intercooler not realising that there was still old oil left. This old oil was being sucked into the fuel system intake and through the turbos which was the cause of the smoke. After driving the wagon for some kilometres we finally burned all the excess oil and the car was and still is running beautifully.
Lessons learned.............
Do not use after market air filters. The new air filter has a double lip rubber seal which fits over the air cleaner body enclosure to keep dust out. Use only Genuine parts.
Do change the oil in the motor every 5,000 kls if doing a lot of off-road dirt work.
Buy a good quality catch can and clean it out regularly.
Fit a Snorkel but don't be fooled that it will prevent dust entering the motor. If travelling in convoy on dust roads stay well back and allow dust to settle before proceeding within reason of course.
Do not be fooled into travelling in deep water beyond the recommended unless you want to remove your engine to replace stepper motors. You may get away with it one or twice but don't tempt fate.
Listen to old fools they may be right. nothing lost if they are not.
Our total cost $20,000 ex-labour. Our labour two old buggers and Dong. (Paid for by pop of course.)
We were told Toyota allow 2 men one day to remove engine, 2 men two days to transplant all parts on new engine and 2 men one day to install engine. This does not include any turbo work. So $10,000 is not unreasonable I am told.
Last contact with Ding and Dong was as they were leaving Karumba after packing a freezer full of fish and total enjoyment with the old farts who knew how to catch the fish and teach the young generation how.
Hope this tells you that the LC200 does have limitations but will go forever if treated kindly and within recommended tolerances.
Regards
Vinc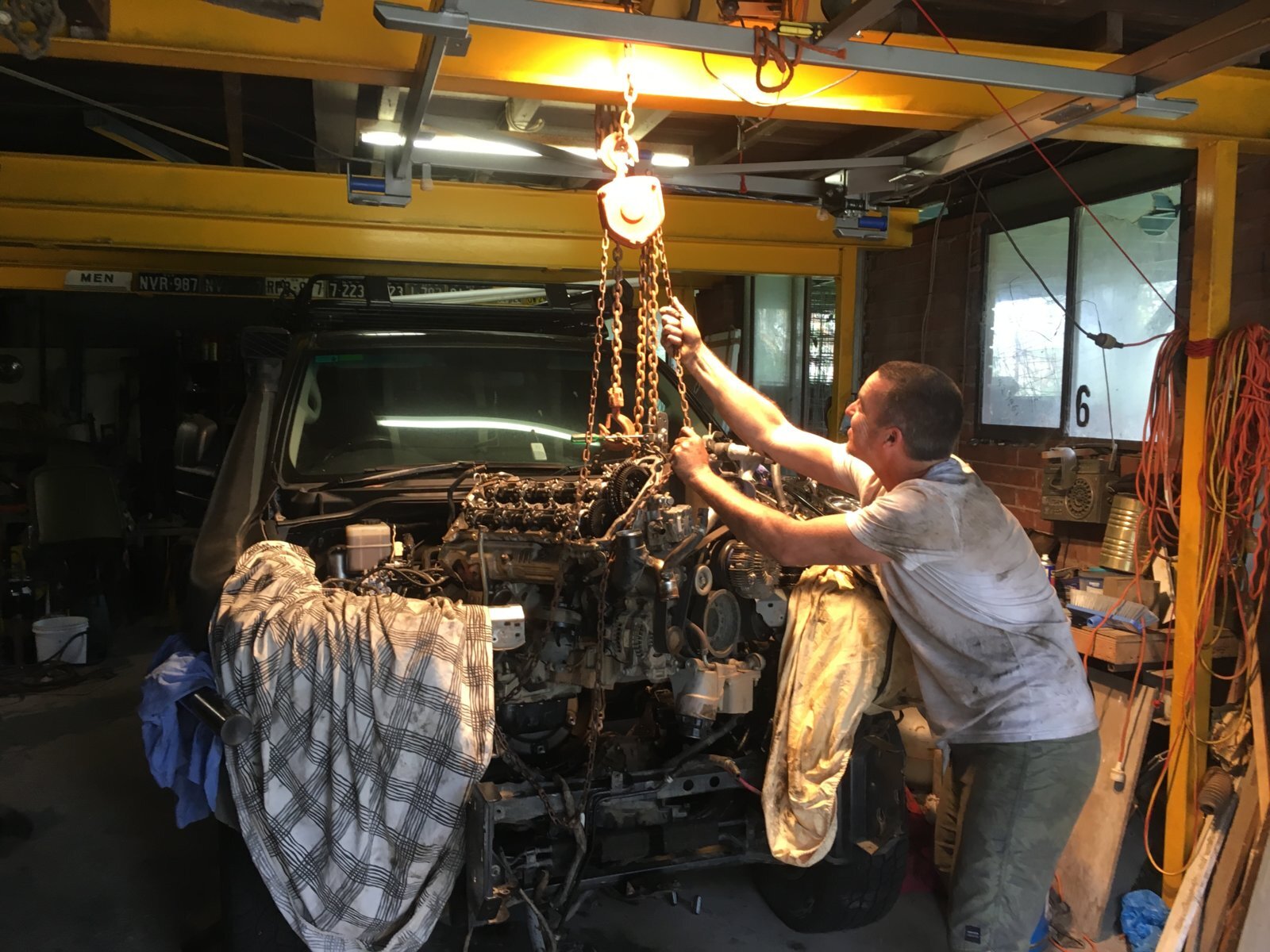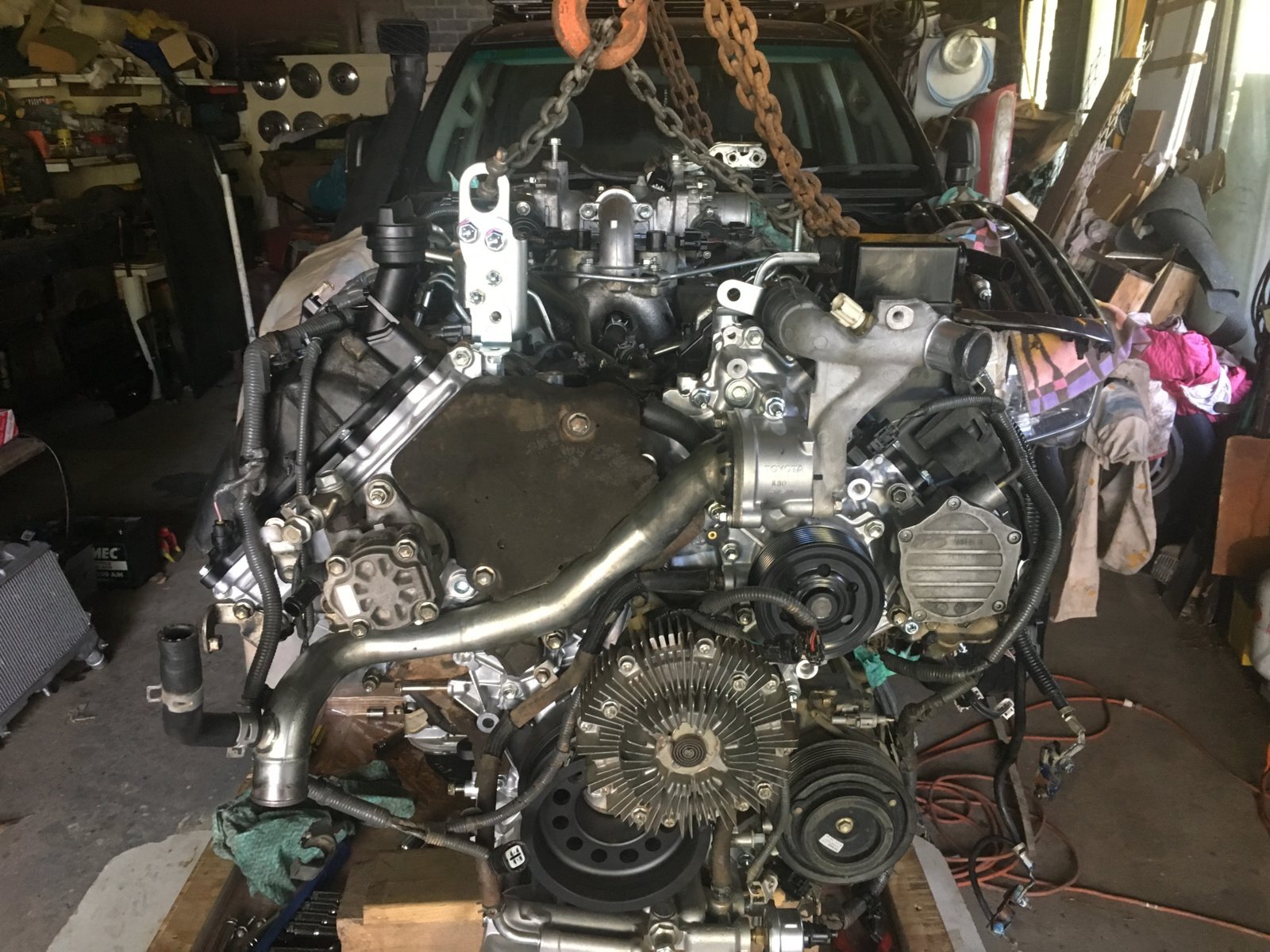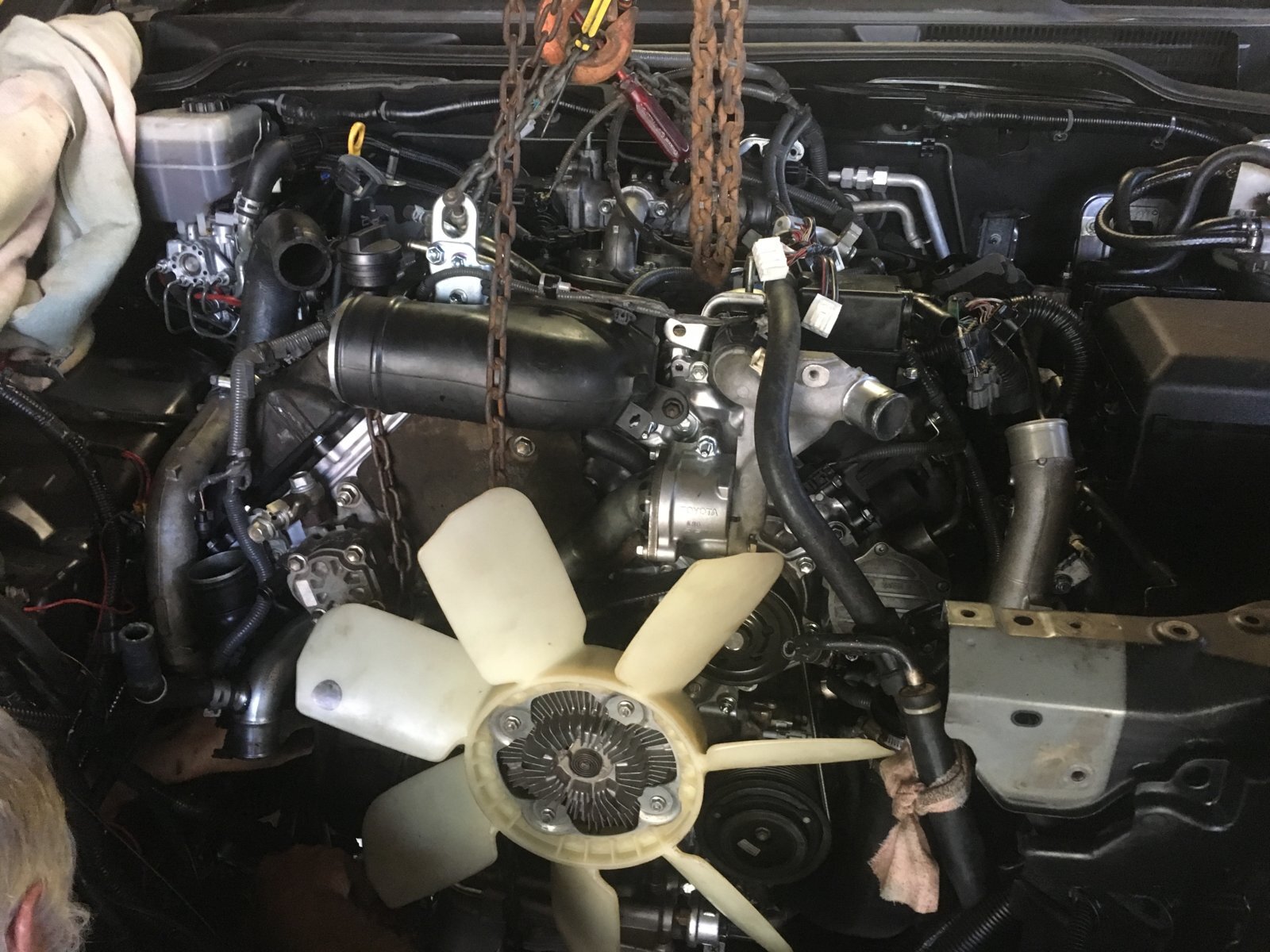 Hope this tells you that the LC200 does have limitations but will go forever if treated kindly and within recommended tolerances.
Regards
Vince