Well-Known Member
Supporter
Guru
In setting up a split charge system this year I came across the Intervolt DCC Pro from Australia.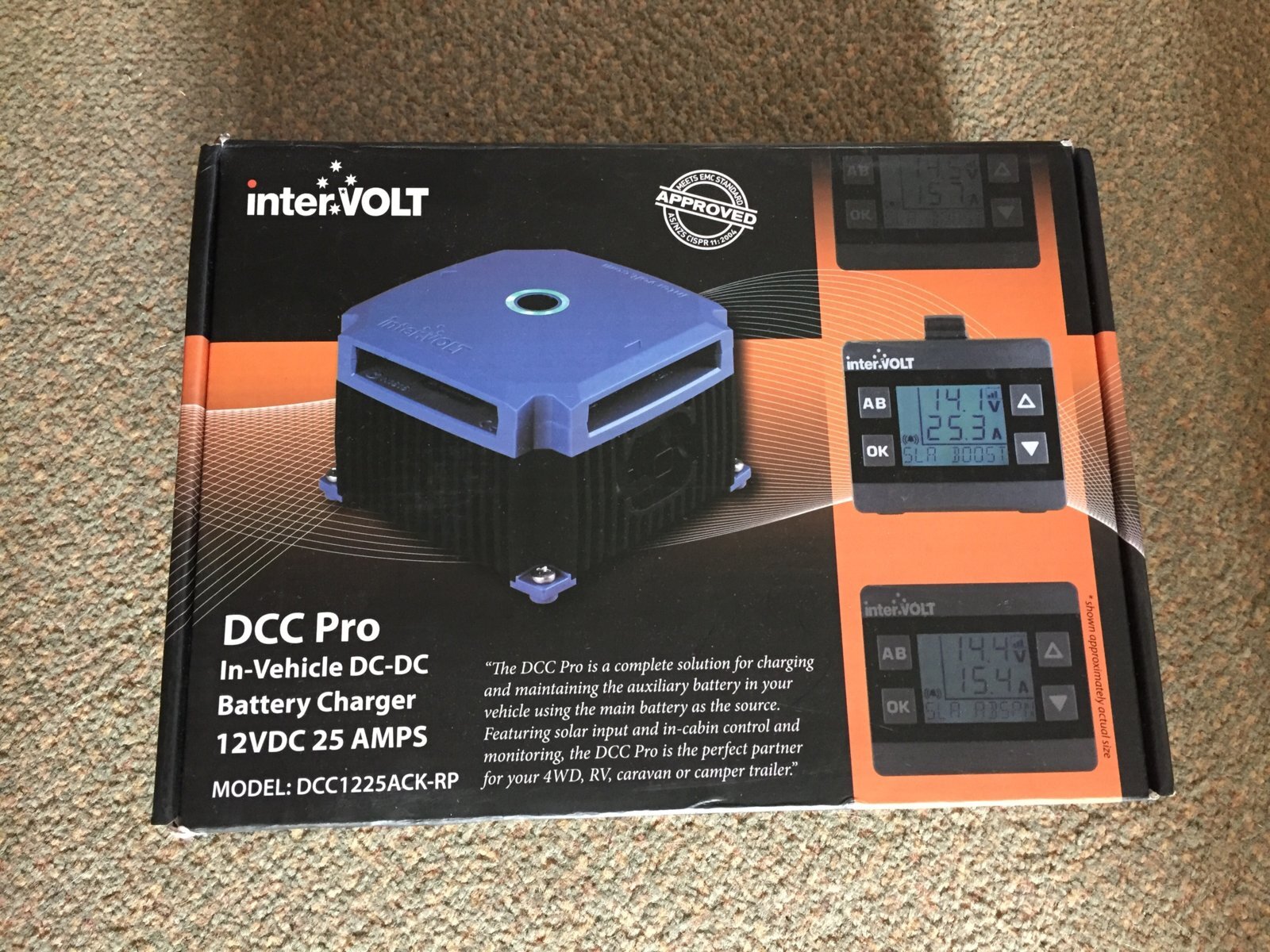 Now, I know the Ctek systems are cracking good and I have one of their mains chargers but I've never really liked that you need two bits linked together for their split charge system, that take up a fair bit of room or the terminal arrangement. This is probably just me.
Anyway, I decided to go for the Intervolt as it comes with a nice neat display, can be programmed for any battery, can take solar and charge both leisure and vehicle batteries and will deliver a full 25A all day long in the heat of the engine bay in Outback heat say the suppliers. You can even add a second DCC Pro to the display if you really want to. The price isn't bad too!
The whole case is a heatsink from the terminal layer down!
It has a footprint smaller than a CD case and is 100% waterproof, even submersible!
The top comes off to reveal all the terminals which are set out in a way so as to allow the wiring to exit in any of the 4 directions. There's been a lot of careful thought put into this.
It comes with comprehensive well detailed and explained instructions.
I decided to fit mine on the right hand side just between the brake master cylinder and the inner wing so I had a bracket made which also allowed me to fit a couple of 400 A solenoids, one as a bridge for linking leisure battery and starter batteries if needed and one as an isolator for a winch if I ever get round to fitting it. These also made excellent solid connecting points for the 35mm single cable I used to go from front to back and to the starter battery.
Doing this also meant I could fuse down at this point and use 10mm flexible single cable to connect to the DCC Pro. I used some lovely sealed Maxi fuse holders from Littelfuse for this.
The display comes with a good length of cable with Pre fitted connectors and a snug rubber grommet for the firewall.
I selected a spot near the original cable entry rubber and drilled the suggested 10mm hole. They even fit a little protector to the fitted plug!
The outside end has a really neat waterproof plug moulded on which locks solidly into place on the side of the DCC Pro.
With the terminals on the top with a cover over them, the whole thing ends up pretty neat and tidy with no open terminals to get accidentally shorted.
There is also a little terminal for an ignition sense wire. This can be configured so the unit starts up as soon as the vehicle is started or can be omitted, with the unit being set up to be volt sensing, so it can be connected to a trailer that may or may not be there.
I routed the display cable up to the roof console area and fitted the display there, as it's no more than 2" square it is quite neat and unobtrusive and comes with a ball mount bracket so it can be pointed in various directions to face the viewer.
Once everything is ready, the first connection is made and the unit programmed simply via the backlit LCD display.
I have to say it's one of the best designed nicest electrical items I've had to fit (and I get to fit a few!) in a long time. I liked the look of it before I bought it and have not been disappointed. It certainly charges the battery from either vehicle or solar and the display tells exactly how much is going in in volts and Amps, with watts shown for solar input.
www.intervolt.com
Last edited: