Have polished the original headlights multiple times, but the fading of the plastic covers seems to be right through the top half.
Full genuine Toyota replacments from Roughtrax would be the ideal, but they also list aftermarket replacement made by Depo for half the cost, it notes they don't come with the electric adjuster motors but also notes the motors can be transferred over, has anyone tried these lamps yet were they ok and if so did the motors actually bolt or screw on OK?
I ask because we had a Mitsi Outlander 1 at one time and the headlights on those were awful, actually crazed on the sun like a frosted bog window, genuine replacements circa £350 a side 10 years ago, i bought some aftermarket jobbies which basically fitted where they touched, very poor things they were.
So, would appreciate some thoughts on the cheaper ones that Roughtrax sell for the 120.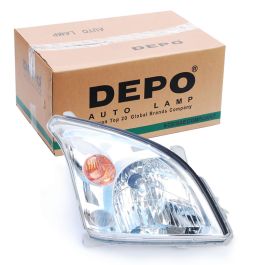 E-Marked without Electric Adjuster, Right Hand Drive models only

www.roughtrax4x4.com