Well-Known Member
Supporter
Pull out drawer kitchen, twin hob, grill, kitchen sink with electric tap (microswitch) draining board, prep area.
Very quick to deploy.
Windbreak by opening lids.
Storage for pots and pans above, larder area, place for your cutlery and utensils etc.
Storage for gas cylinder and gas tap access behind rear passenger seatback.
10L water tank between kitchen and side of truck. Easy to fill, doesn't spill.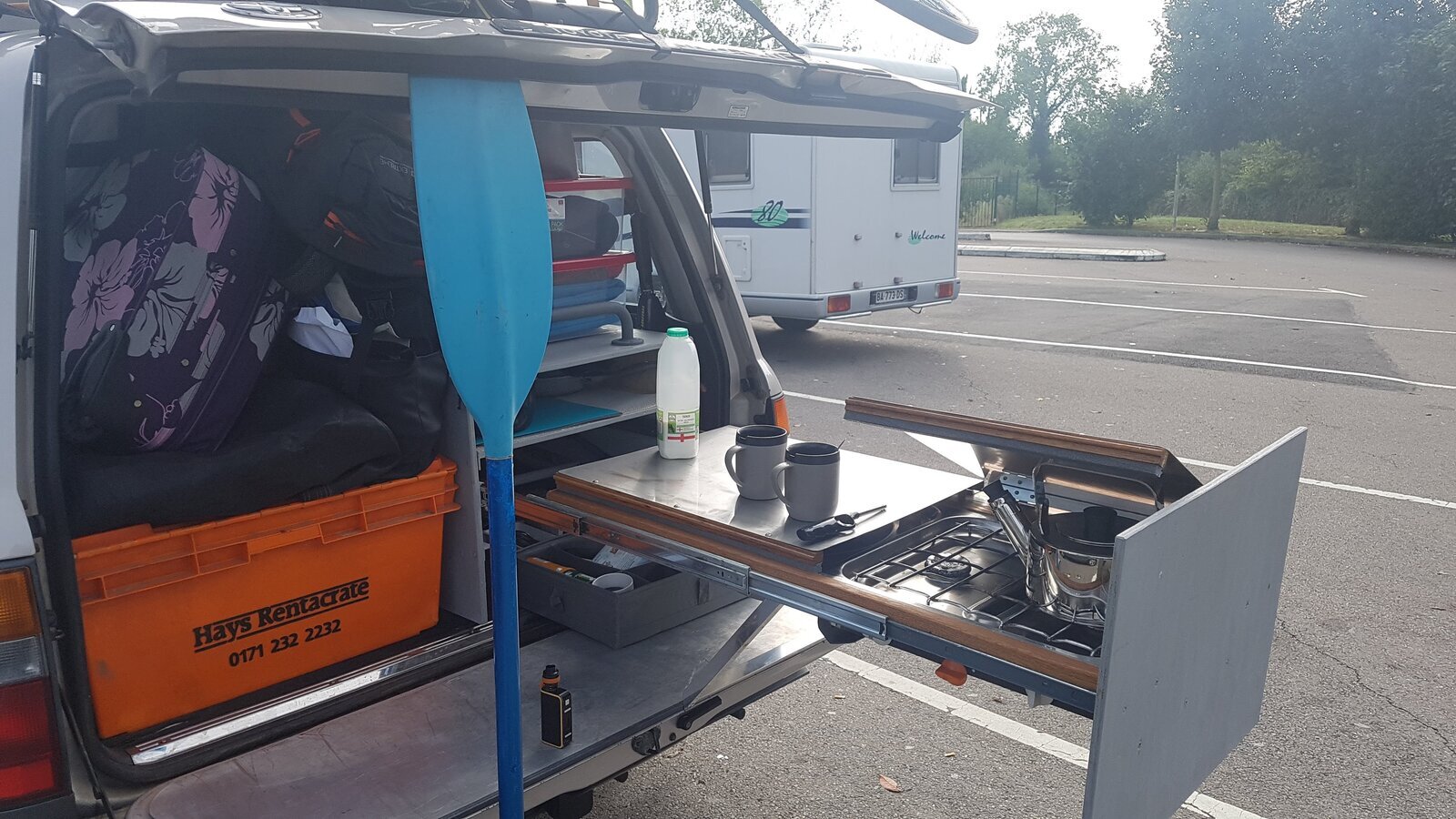 It is made on a steel angle iron frame, welded to a rear removable seat mechanism, so it is extremely firmly mounted (mounts on seatbelt mounts) but very easy to remove, you just remove it like you do with the rear seat, unclip and slide the box forward. The rest of the box is made with plywood, it is painted with grey emulsion and waxed which gives a very durable finish.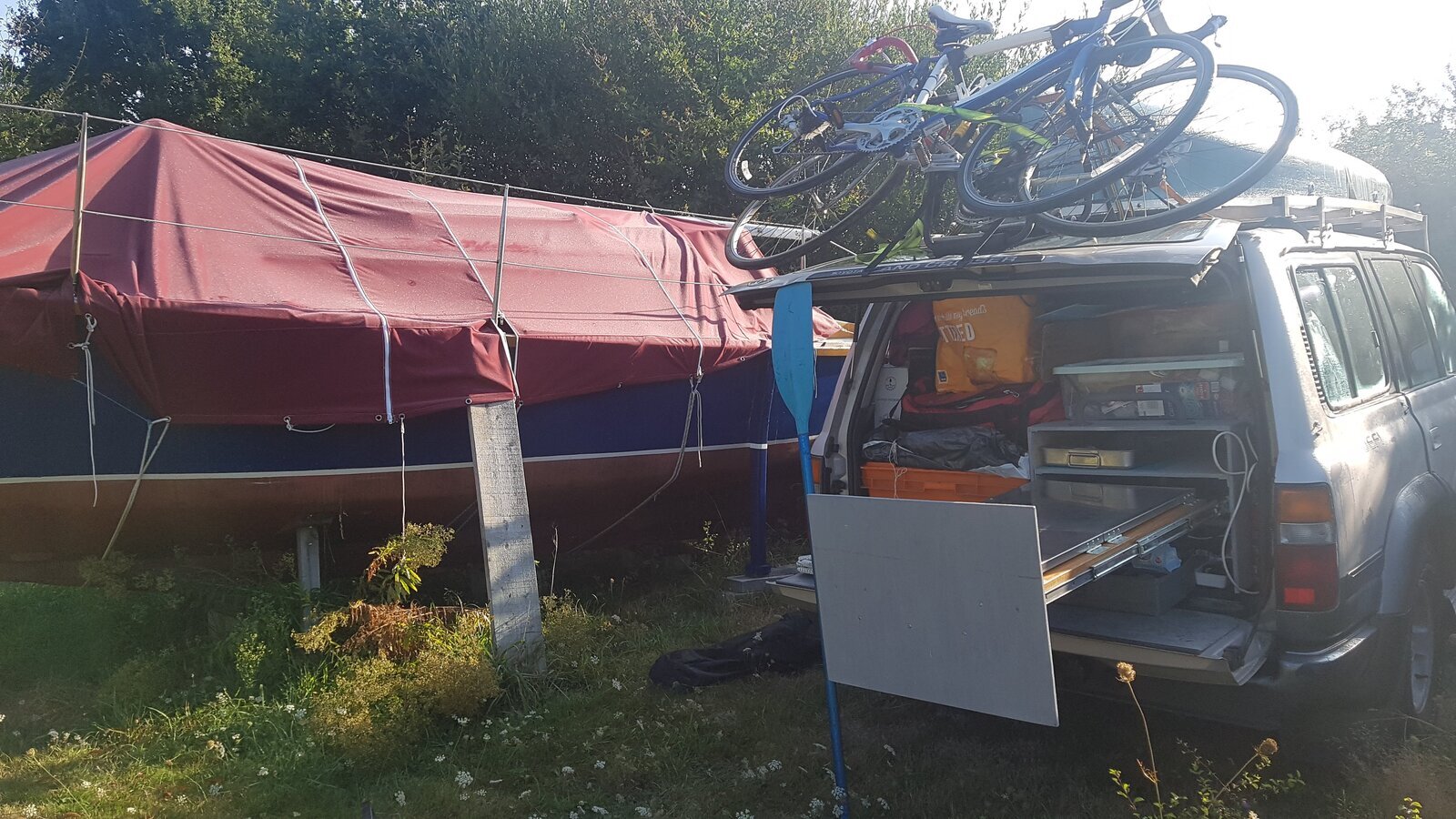 The kitchen drawer is a steel ladder frame design, with stainless sink and hob from a caravan. There is a relay for the electric tap pump, it plugs into a cig lighter socket. The gas line is run in plastic sleeved copper hardline under the drawer section, then it is normal gas hose back to the regulator and cylinder.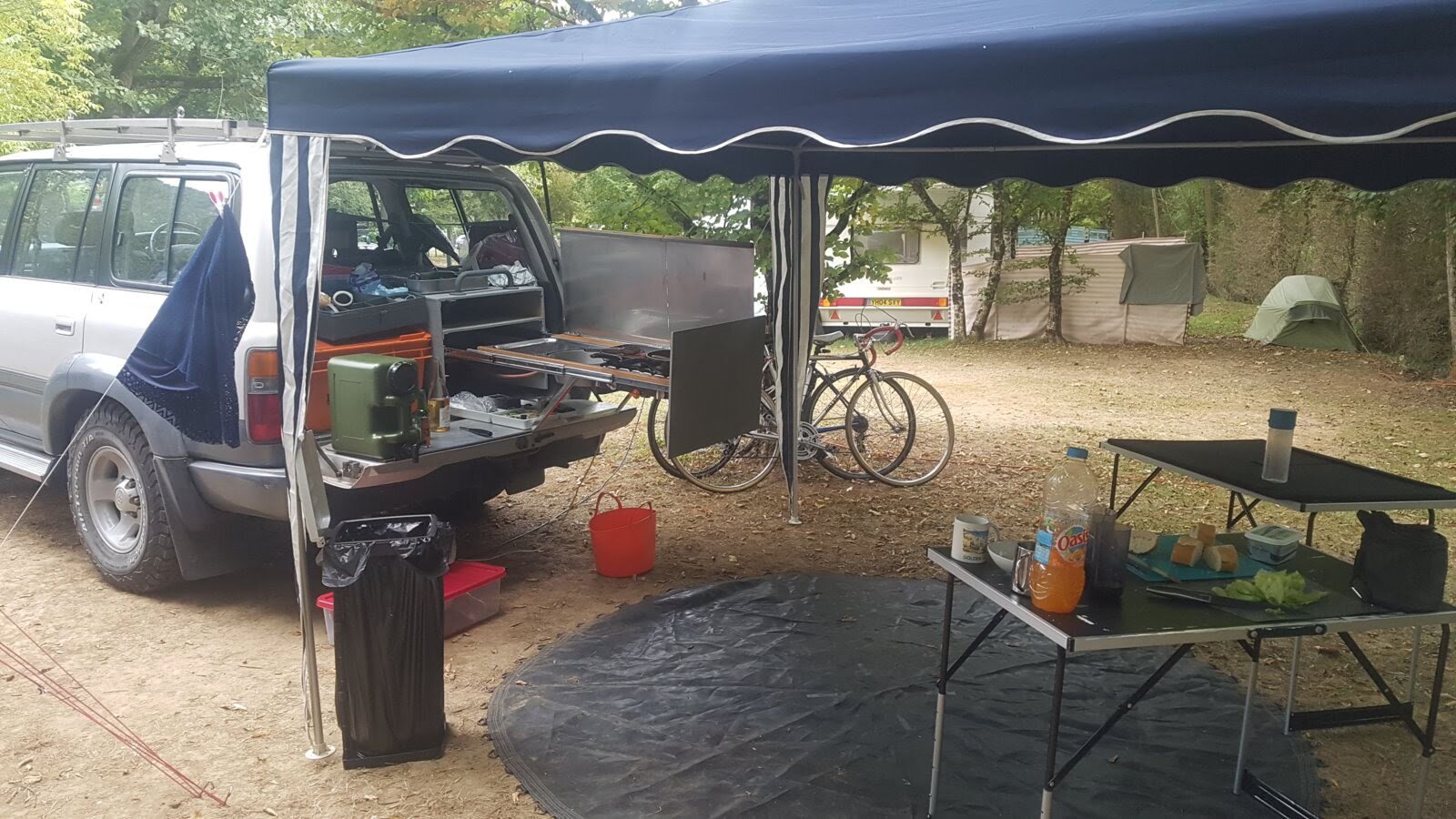 The drawer runners are 2 Snap On toolbox drawer runners welded together to make a long slide out. You can pull it out halfway to use the hob or if it is fully pulled out there is a steadyleg that hinges down and braces to the tailgate.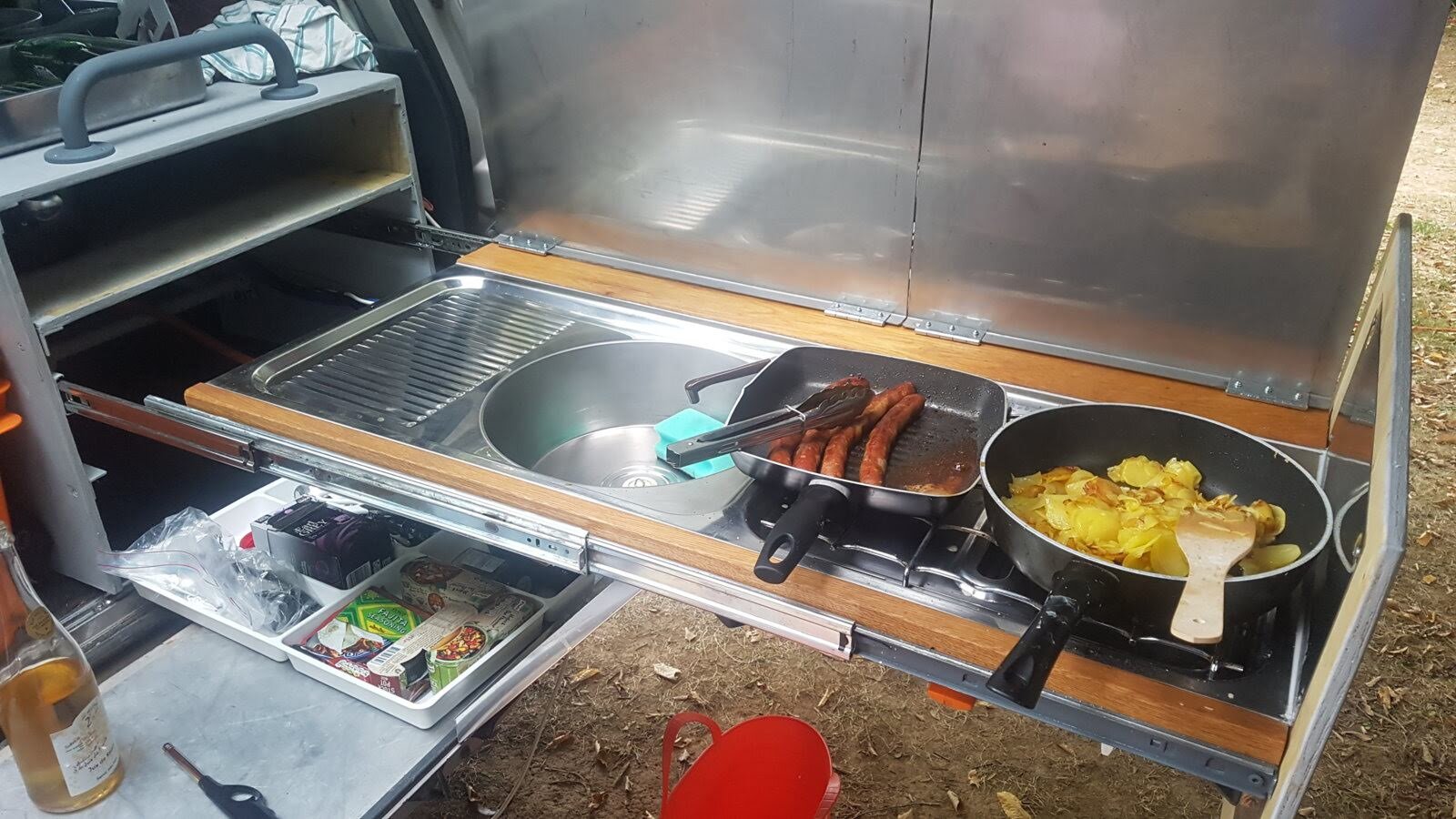 There are 2 full camping gaz 904 cylinders, these are new cylinders not rusty. They are held down firmly with a ratchet strap.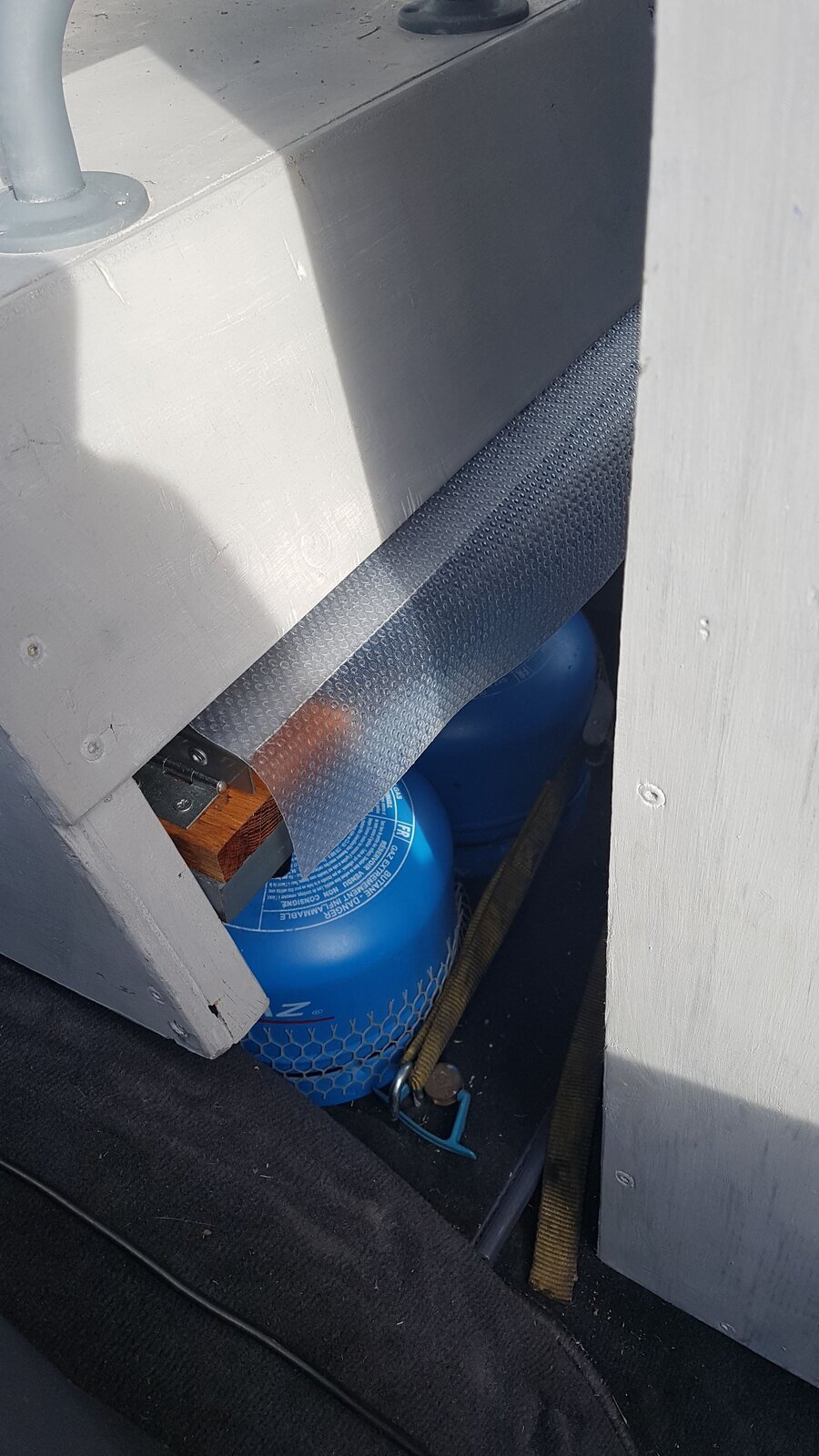 The edges of the kitchen worktop are oak, this is oiled and in good condition. The windbreaks/covers are stainless steel, with a thick foam buffer. They are quite solid, we often use them as prep areas, however they are in very good condition.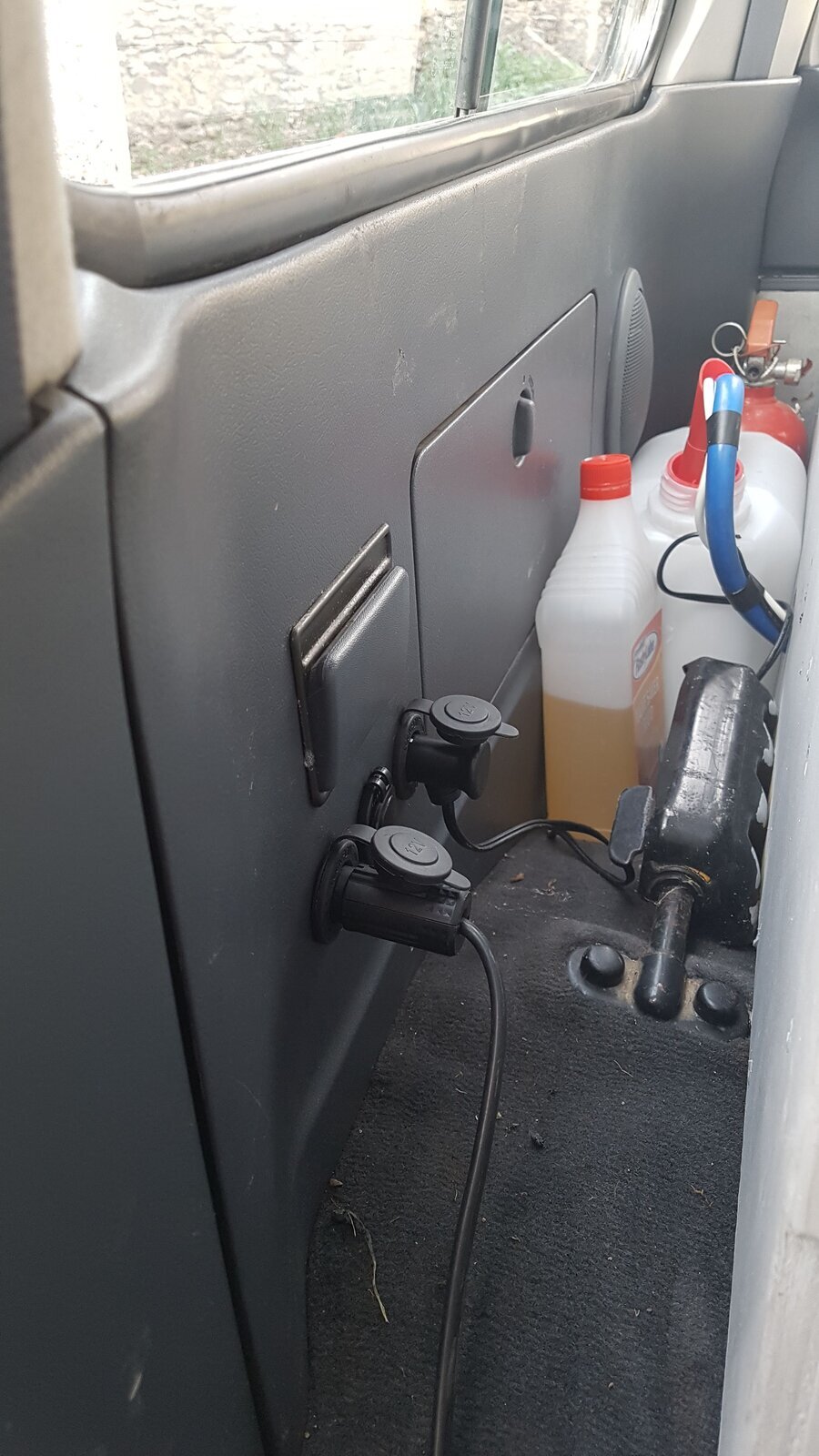 The storage area for pans is huge, you can fit a whole set of pots and pans, frying pans, grill tray etc.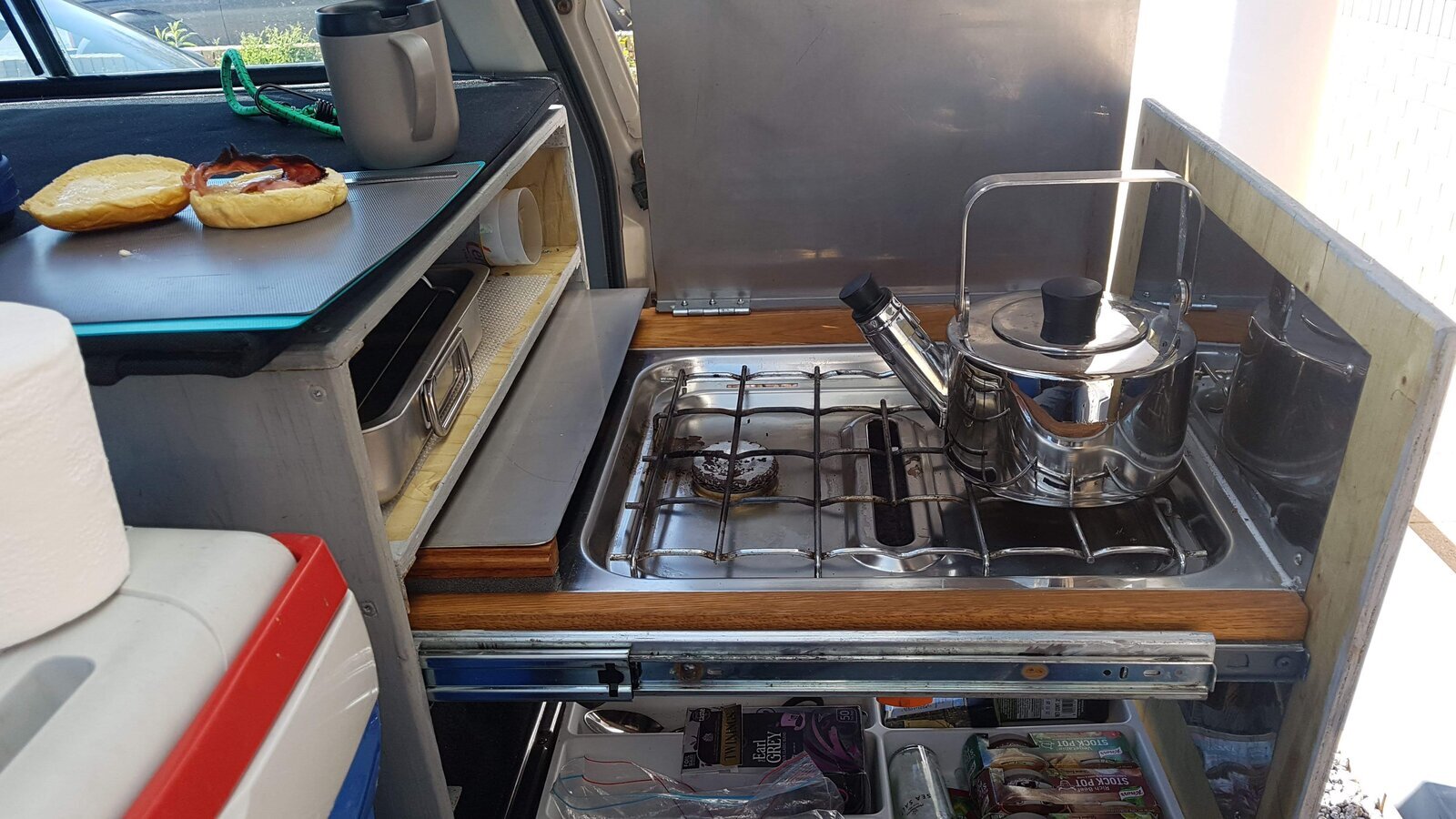 On top of the box there are 2 sturdy handles I use as lashing points to hold down plastic storage boxes which fit nicely on top.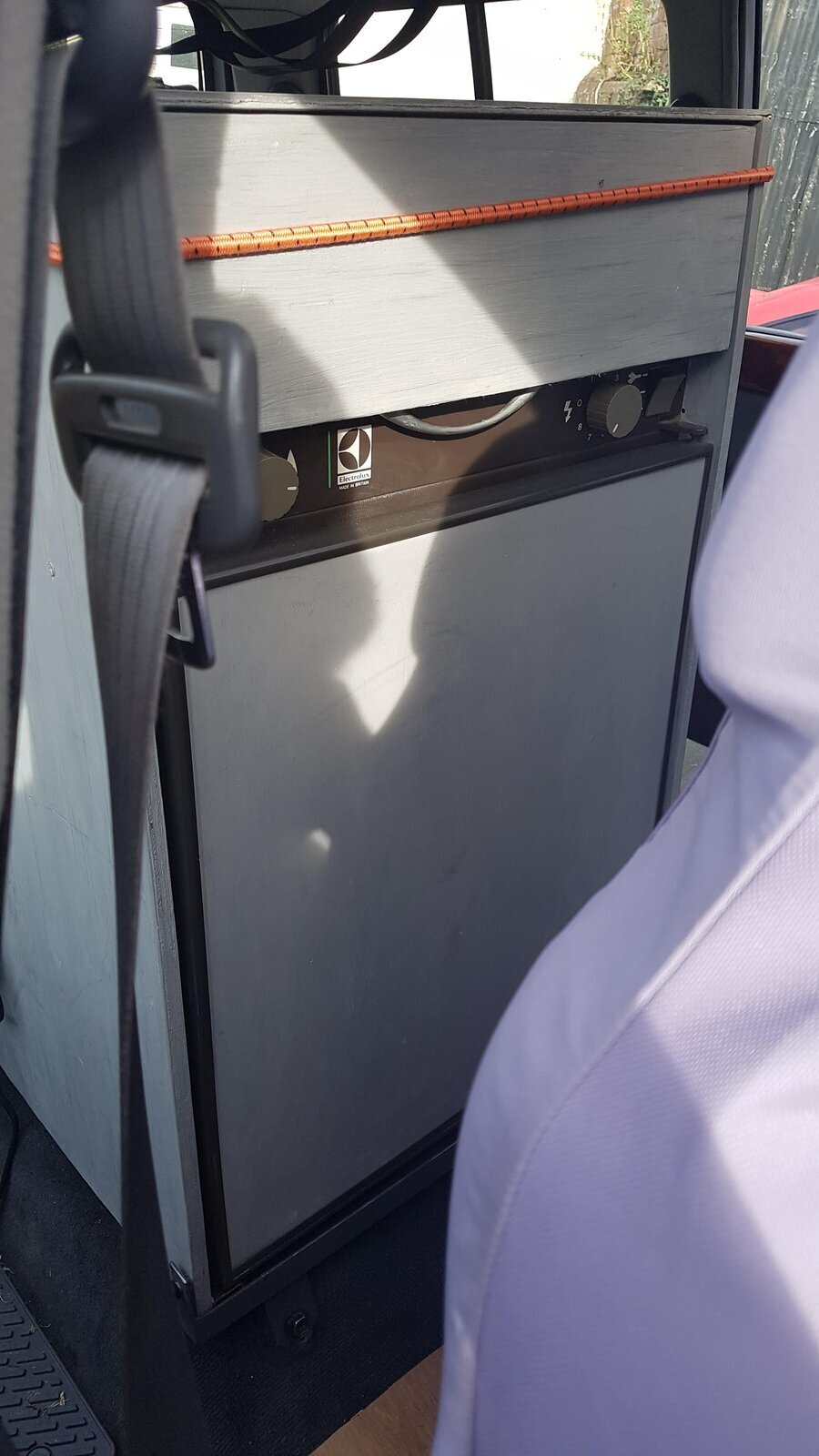 The fridge is a 3 way fridge, mounted in a plywood box with angle iron reinforcement. There is a cutlery drawer at the top for kitchen stuff, or non perishible food. It also has an icebox that will freeze things.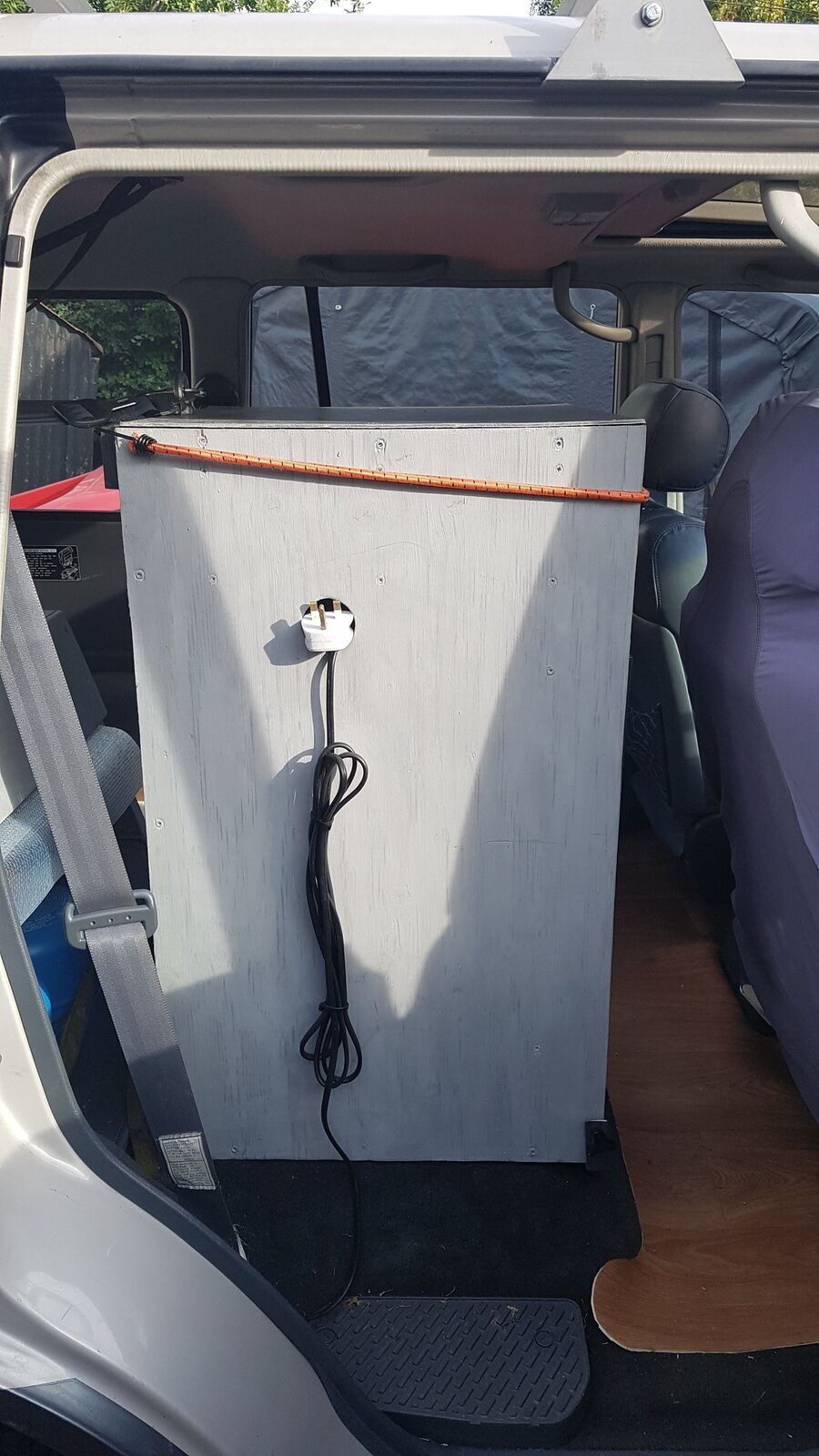 You can use it 240v to cool down before you leave, on 12v when travelling, and 240v when you get to your camp site. If you are off grid you can use it on gas - it is very effective and efficient on gas (you will get weeks out of a gas cylinder)
When I get to a camp I am using as base I normally take the fridge out of the truck, you can then use the aluminium top as another prep area.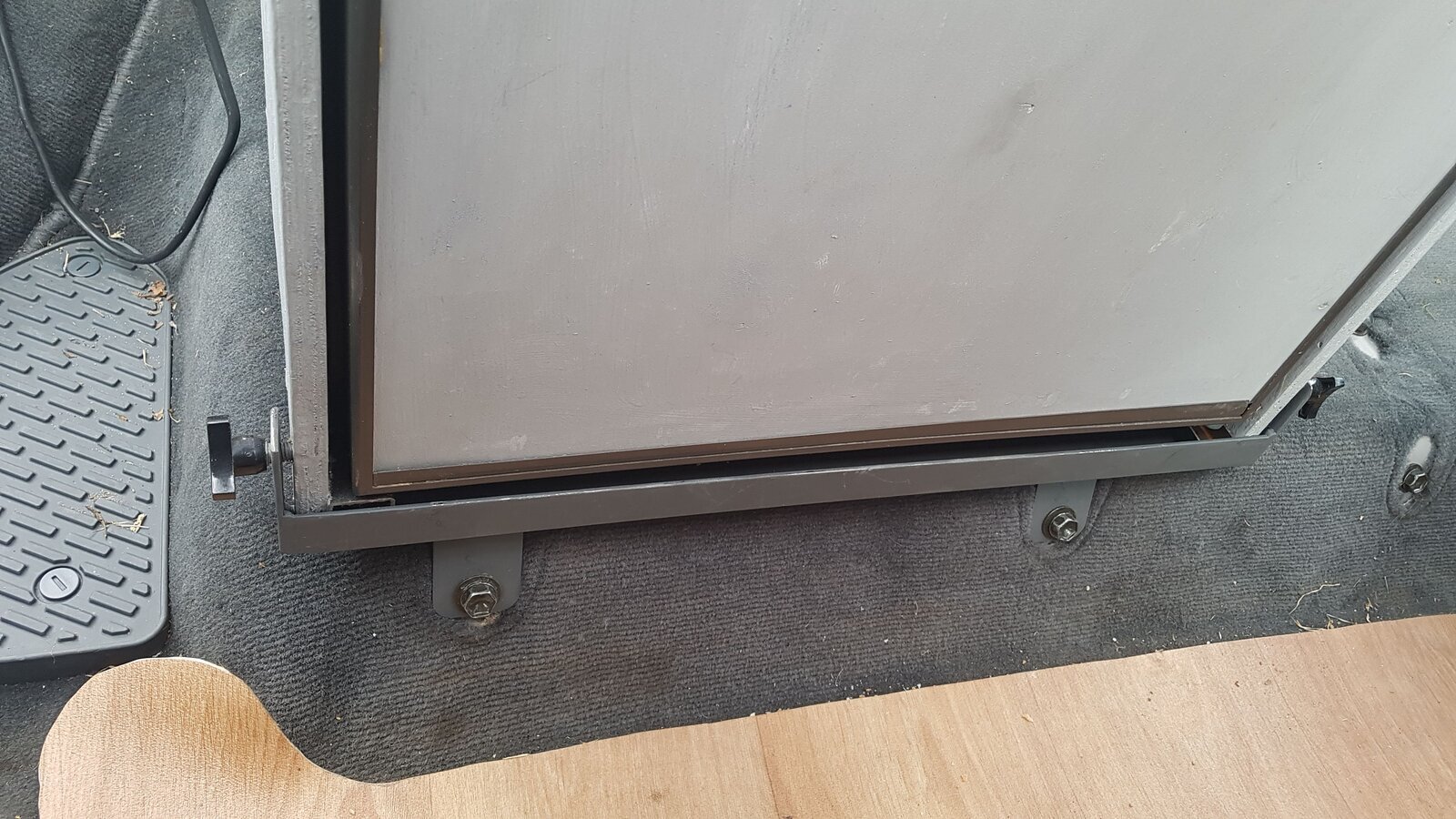 There is a steel bracket that lets the fridge mount in place of the o/s/r passenger seat. There is a steady loop on the top to stop it tipping forward , I use the rearmost seatbelts but it could be braced from the lashing points in the boot.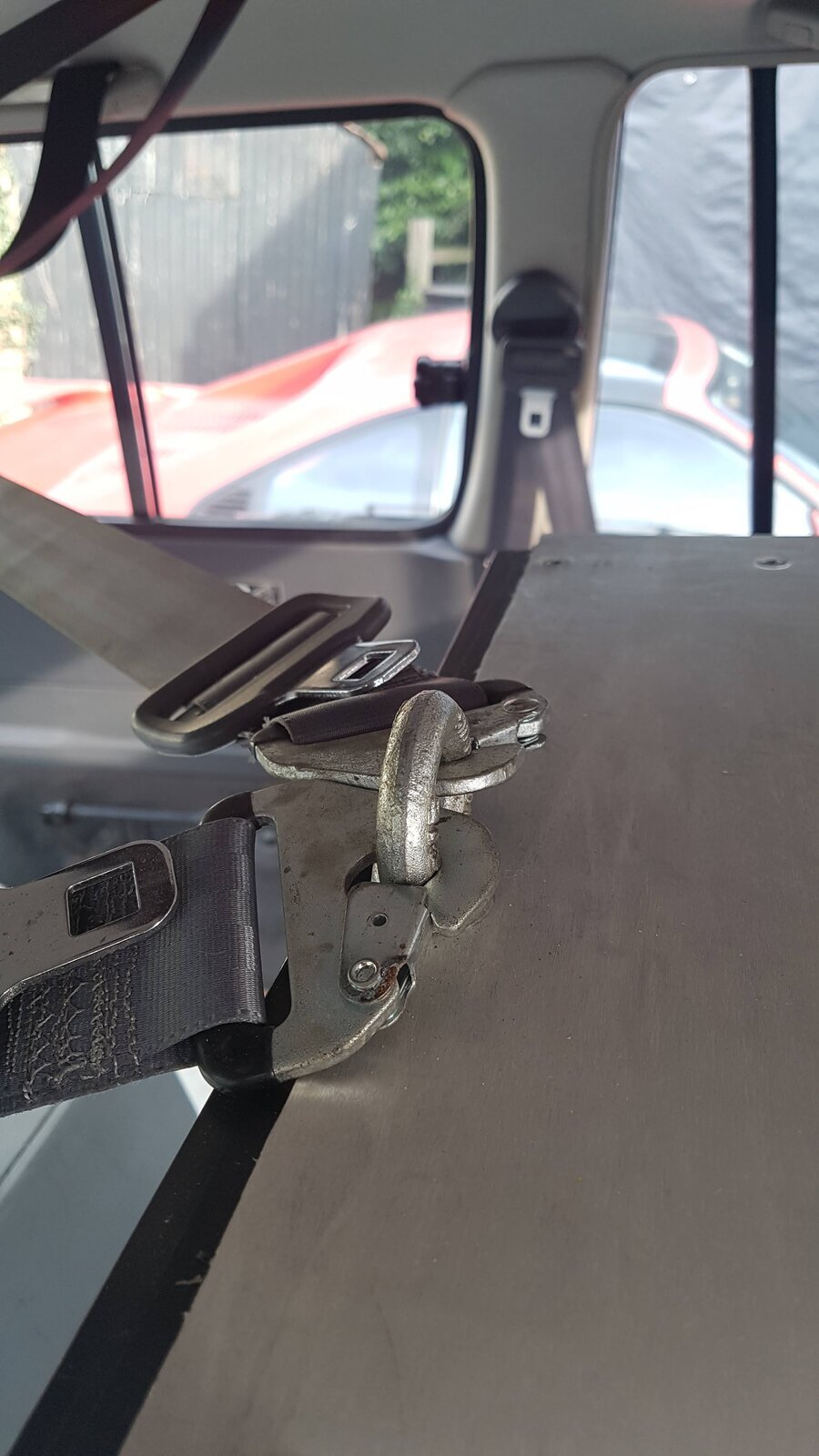 I have taken the fridge and kitchen in my truck around France and for many camping trips, it has been on the Strata Florida and many other green lanes, it has been in my truck constantly since Jan last year, it is still all holding together and working great so there is a lot of life left in it.
The reason for sale is I am buying a bigger trailer tent with a built in fridge and kitchen now so regrettably will no longer need such a big kitchen in the truck.
I am looking for £500 for the kitchen, fridge and gas cylinders, freshwater tank, trays, however I am willing to consider offers, or to split the fridge and kitchen or to swap the gas cylinders for different sized ones. I may be able to deliver the items, I would not be willing to courier them, however the best thing if they are viewed in person.
Please feel free to ask any questions, or for any specific pictures. I will try and do a video of the kitchen and fridge.