Joined

Jan 4, 2015
Messages

12
Country Flag
Hello. New to the Landcruiser Club and hope I/we can be friends.
I bought a standard 2006 IFS GLX V8 which I've owned now for 2 years and just starting to make changes, upgrades and modifications to it.
I like the truck look on my Landcruisers which I've been driving and modifying now for 30years and travelled thousands of klms with over the years. I have to say this by far the best Landcruiser I've owned so far (having owned both petrol and diesel), this thing gives me 100klms per fill up which is better than any 6 cylinder I've owned so far and drives like a dream.
This is my first Club ever whether online or off and I am looking into joining a Landcruiser club in the Sydney area as well so if now of a good one please feel free to let me know.
I'll throw some images of my exterior work thus far and my new project which is a new center console to fit light switches, CB and other gadgets for easy accessibility which will then be remoulded in carbon fibre when I am stratified with the finished product.
I will be making suspension and other mods as well in this coming year including a lift, rear stack exhaust (which I hade do to my last 80 series and worked just great), 160lt sub tank replacement, dual wheel carrier, 17000 pound winch, In built Compressor and under body protection to name a few.
I run 2 cams front and rear and will be upgrading this to 4 soon using a 2tb HDD drive (which also includes signs saying I have cams, keeps the fools away). The wheel guards are ABS which I had made. Rear one ATM is fibre glass as the ABS one is not yet ready but on it's way. Twin snorkel also to visit the plastic remoulding workshop soon for a couple of changes and will be hooked up soon once I finish the pipe and filter work to fit in the engine compartment.
I do all the work myself including modifying the roof rack and all attachments, brackets etc.
Happy for tips and pointers as this is my first IFS which so far has been great on not to hard off road driving, I'm hoping for a 4 inch lift in total on this which will require an engineer.
So here are images of my work so far.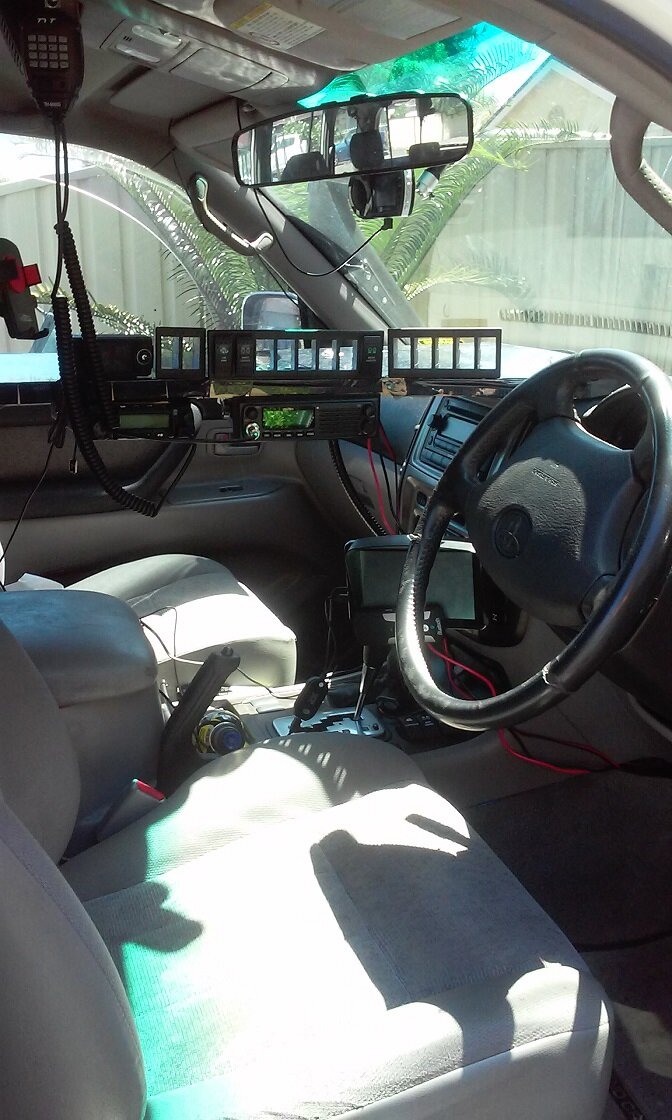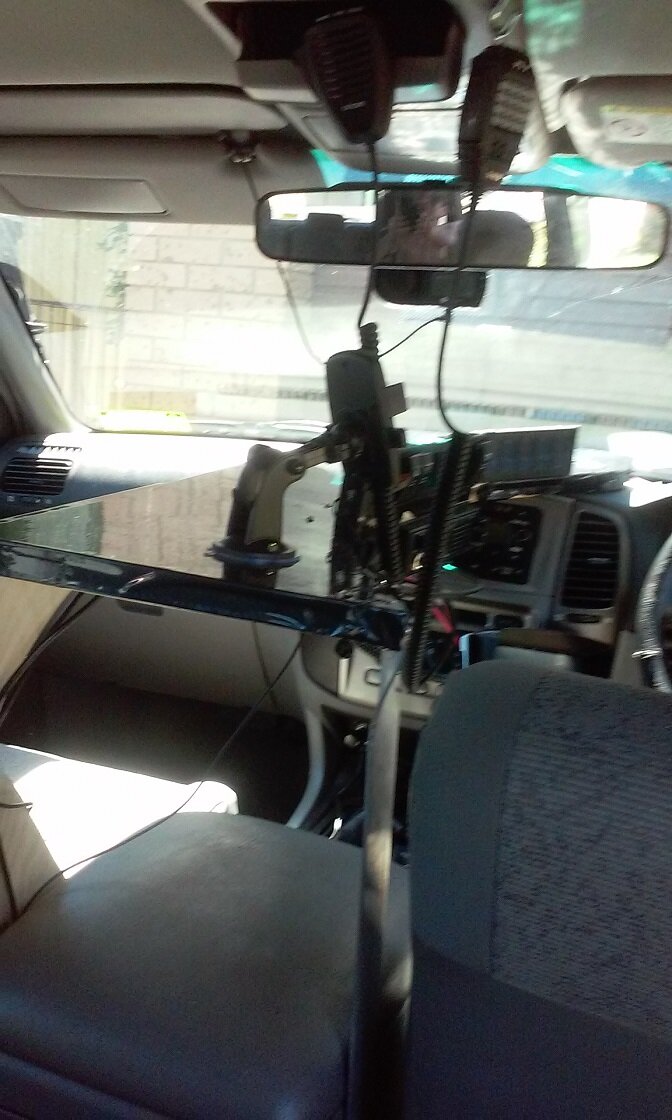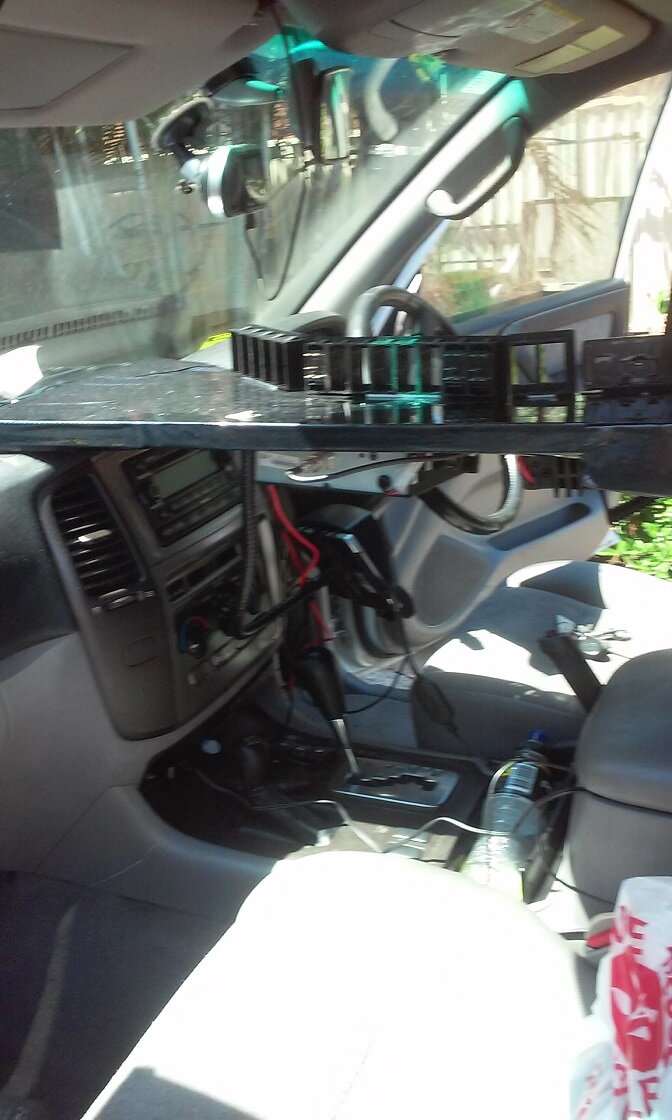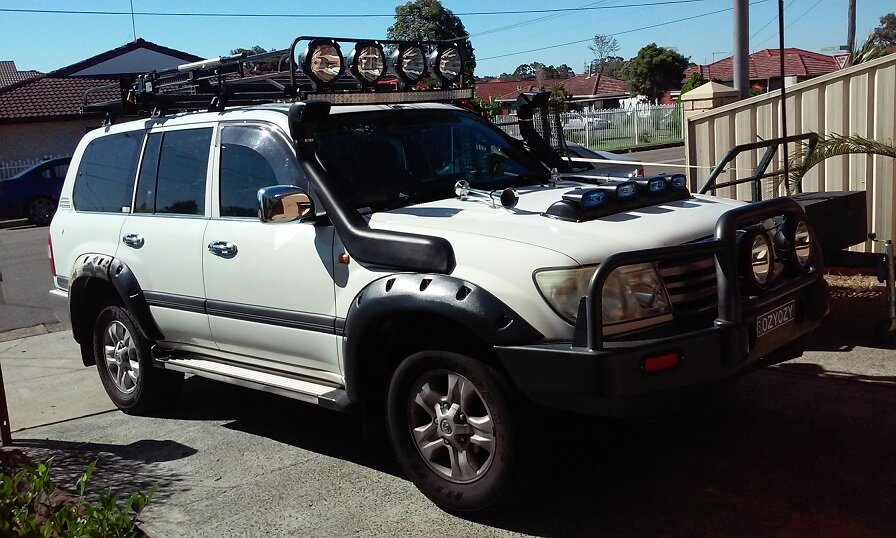 The new console has all my switches for lights etc, UHF and HAM radio, New Cig Lighter (yes I smoke, LOL), gauges for Dual Battery and other accessories. It has a bend in it so I have all the room I need to move around (took me 2 weeks of trying out different shapes to get this right) but I now have access to everything as if it wasn't there at all with the added bonus of having else (all the accessories) all in one location and at hand.
The roof rack has 4x 100w HIDs spot lights (which I will be soon changing to none HID as I'm finding HIDs to be that great), 300w 50inch light bar which I am also adding a second one underneath it soon (they provide truly extreme lighting unmatched by any other light source), Blinkers/stop/brake etc lights on the rear roof rack bar. The bonnet has a moulded fog lights with 2 outer at 55w and the 2 center at 75w each (they turn on in pairs) and the front bull bar has 2x 100w spot lights (not HID) and a set of proper truck air horns (thought of putting on the roof but I like them there better, lol).
Let me know what you think.