Now that my post count is up enough to put pictures up I thought I'd better show the Land Cruiser I had in Australia. Found it on eBay and it was a definite one of those move quick to get it jobs. Luckily we had 2 days off, but had to work out how we were going to afford it, as it was quite a bit over the budget (2x... luckily I have an understanding GF) and wasn't exactly what we were looking for (I wanted a diesel ute really). Unfortunately when we had to leave Aus I had to sell it, it's been sold onto an 18 yr old who had to borrow money from his Gran to get it!
We got it with 138,000km on it, and sold it with 151,000 6 months later. It was a definite keeper, and that was why we'd paid a bit for it. In the time we had it we never quite got to the bottom of why the temp gauge didn't seem to want to sit in the middle (2x Thermostats, 2x Temp Senders later) and the water pump died, as did the Radiator... most interestingly was when the brake master cylinder went! 5km downhills were exciting to say the least.
Just after we picked it up from Newcastle, NSW: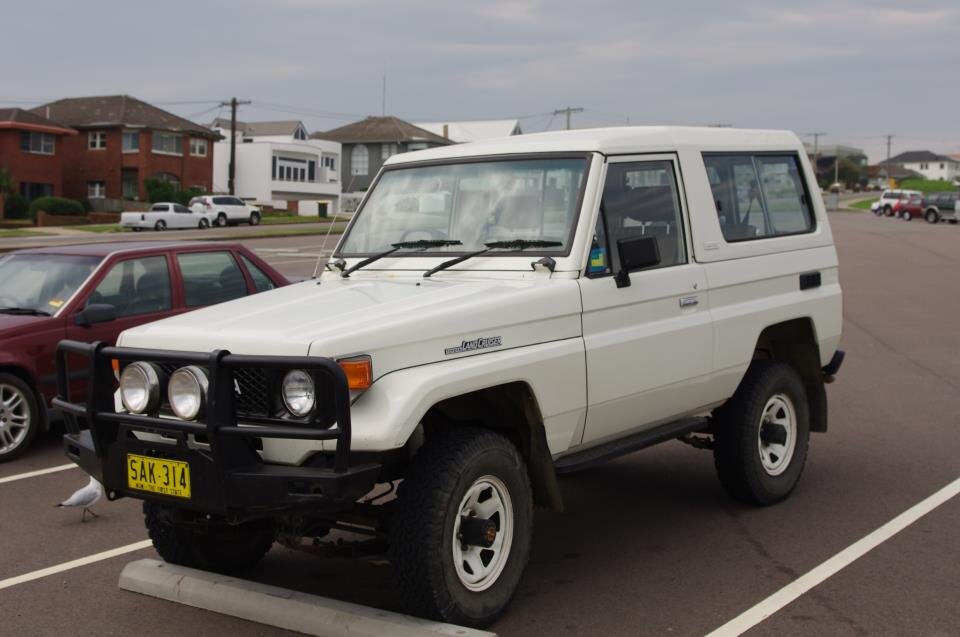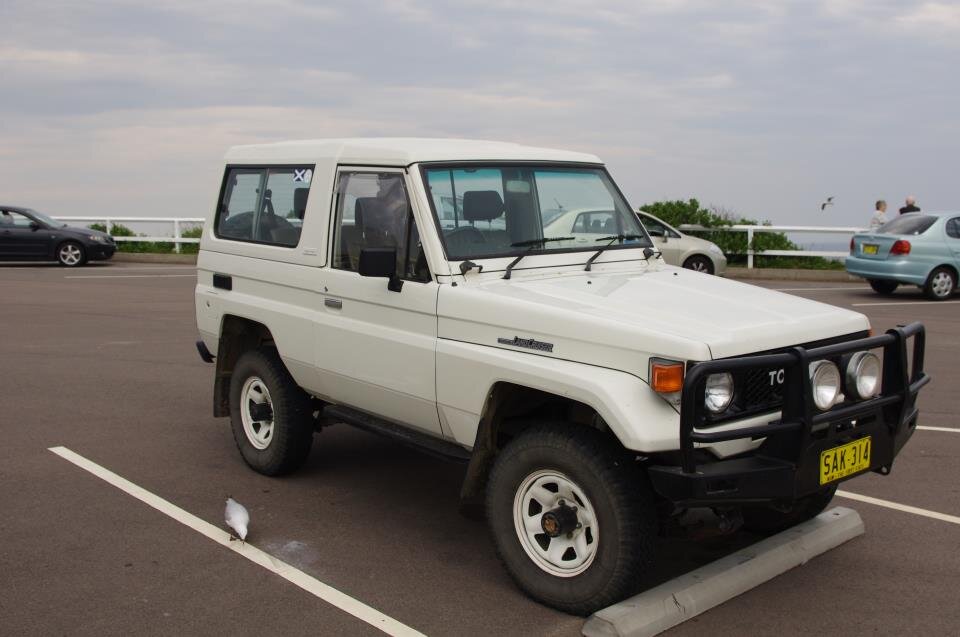 Both of our cars: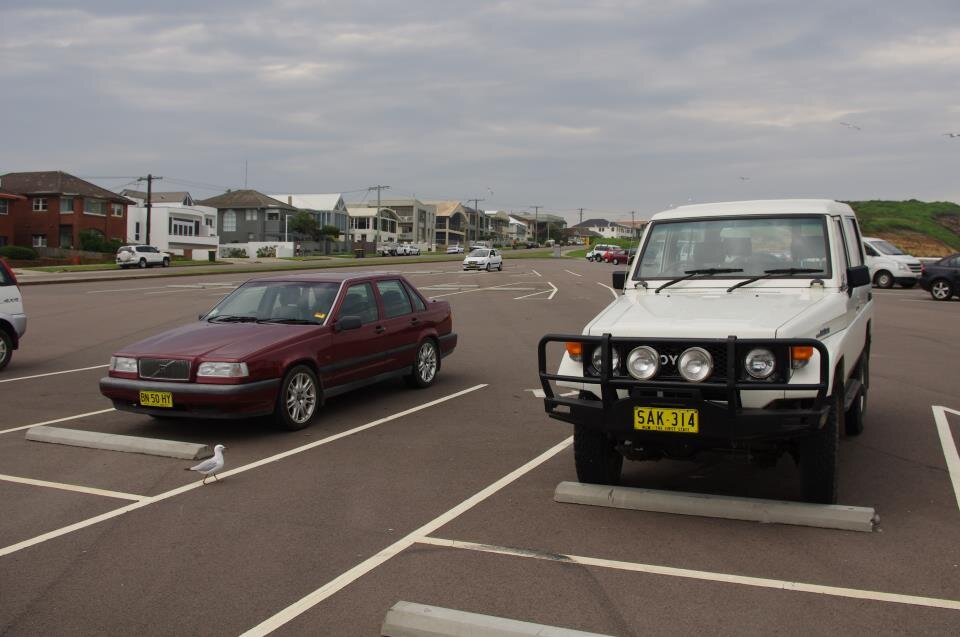 We never quite got the engine bay this clean again: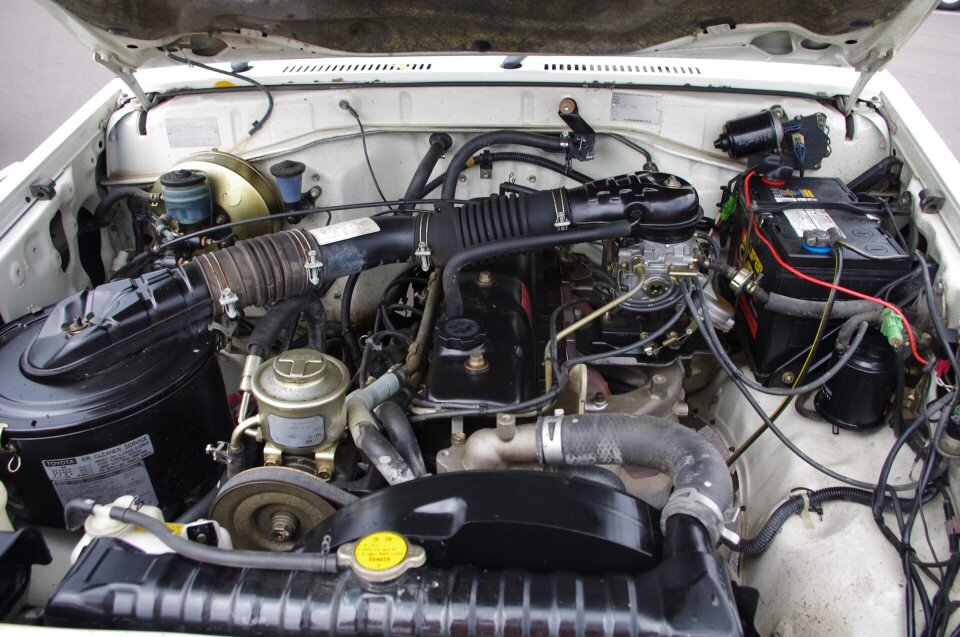 Hi Tech Interior for a Middy in Australia: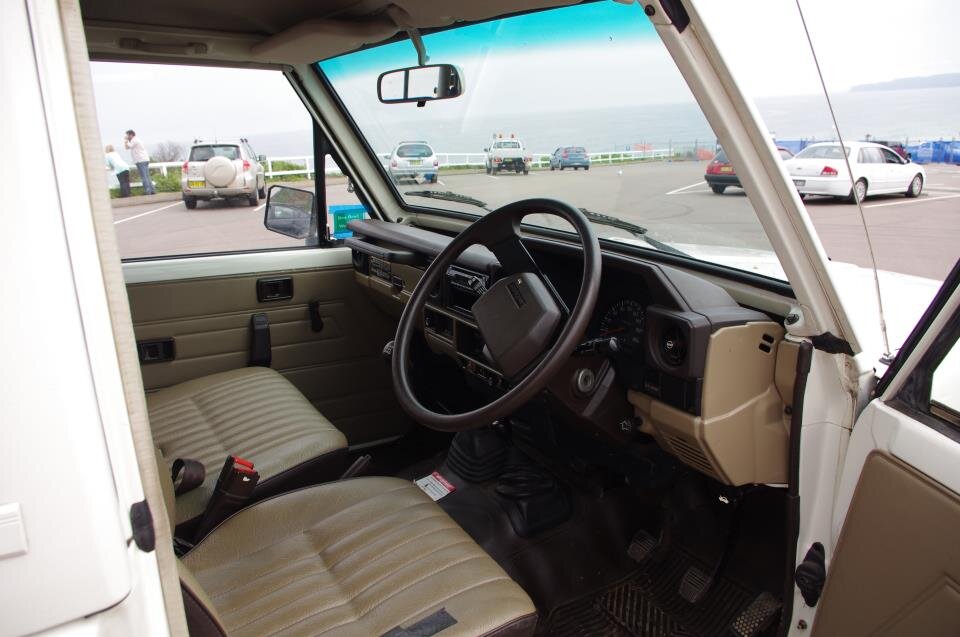 1986 Toyota FJ73, absolute base spec, no central locking, aircon or electric anything beyond the lights, ignition and radio.
Upgrades: circa 2" lift with IronMan FoamCell Shocks, ARB front bar, IPF 900 lights, BFG KO's, 2.5" exhaust and headers
From time to time we needed to do work on it; on this occasion the water pump had crapped itself at the top of the work drive, so it was roll it 3km down the hill and park it in the yard, borrow a work truck to go home and then fix it when we got the parts: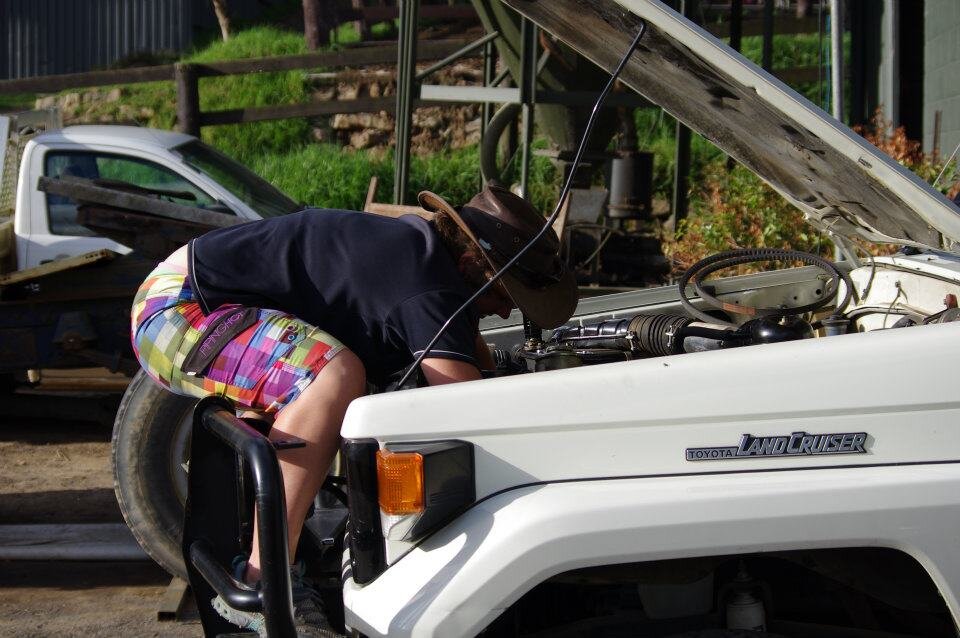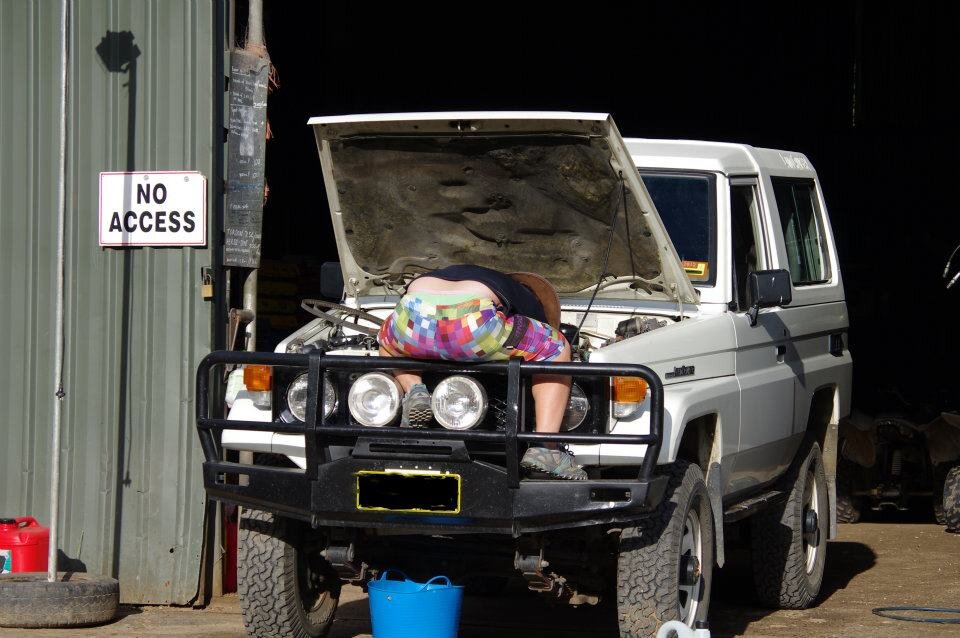 GF could only work on the engine bay like that; in fact I had to open the bonnet for her!
We did a fair few trips, they ranged from a couple of days locally, to a longer trip that got in as much dirt as we could when we found others who wanted to go out with us. Luckily at work we had a fair few others who were game for a trip:
4WDing in the Watagans: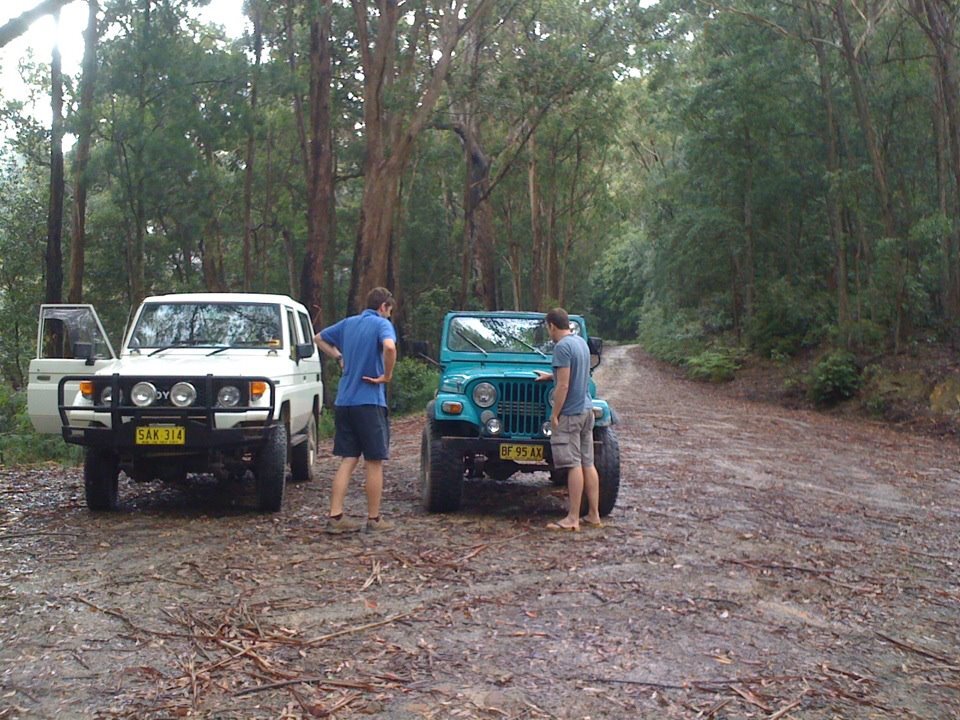 Swag camping: (I'm hiding in the background in front of the 'Cruiser)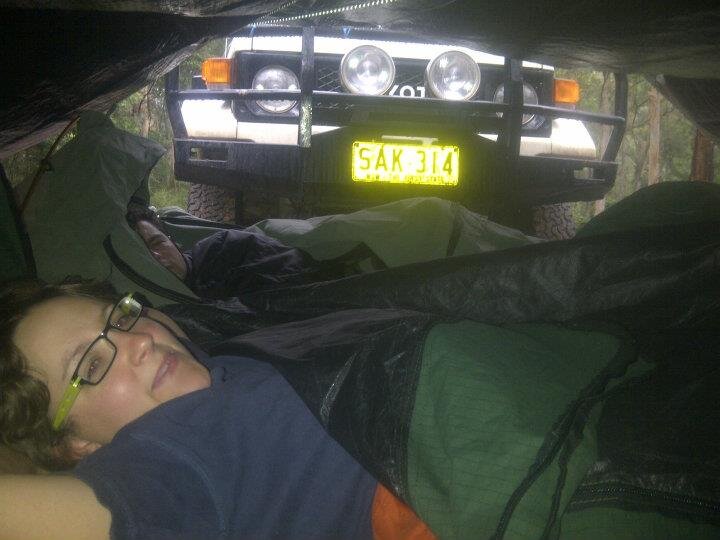 Group of guys who'd bludged off of work due to rain, so decided to go to the Watagan's; they'd spent the last 10km pulling a backpacker's fan out of the bush as it was FUBAR'd They'd decided they wanted to find a road that is somewhere in the Watagan's called Daniel's Point Road; they never found it but I think they went off on Sawpit Road and ended up with a long winch out (in fact one of the lads was in his boxers as he'd drawn the short straw of attaching the winch!)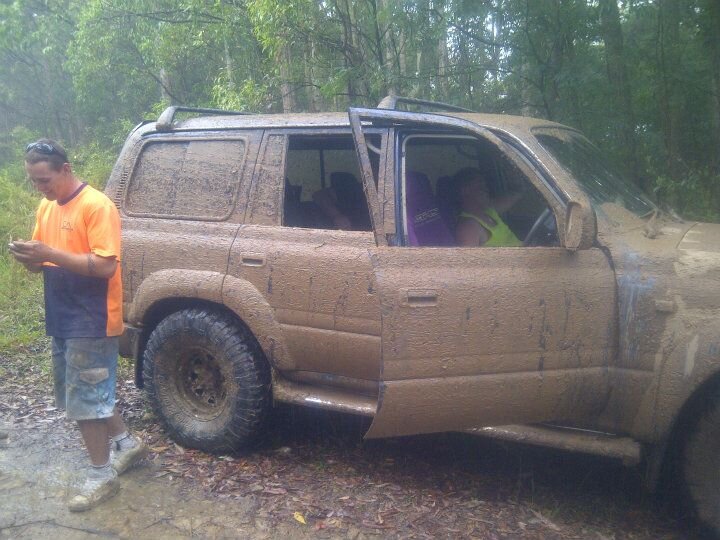 Turon River Trip / 4 days to drive round Sydney:
This will get written up properly (one day!) as I need to do a photo book of it as well
GF had 3 friends arrive in Australia from Scotland, and us and a couple of friends had some time booked off, so we decided to do a bit of trip using the Boiling Billy 4WD Treks Around Sydney book as a base point. They'd arrived the week before, then got up to us and then we went of 4wding for 4 days, 5 up in the Cruiser, and used the Ute as the mule for all the gear (read firewood and booze!)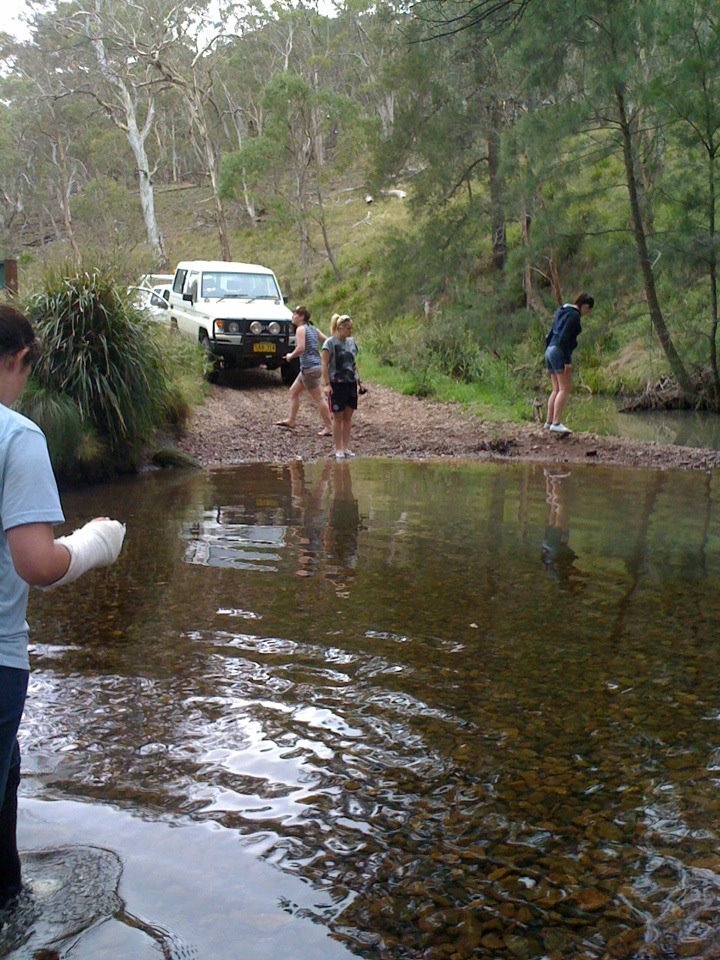 (Just before I got it wrong... went to select L4 and selected H2 instead in the middle of the river...)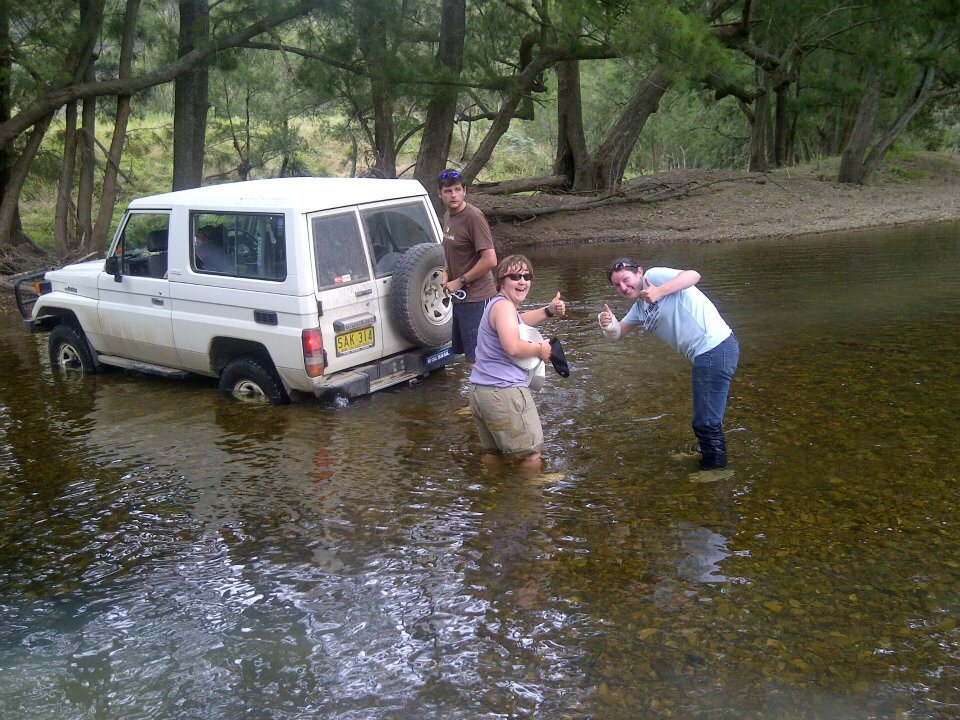 It's great when you're the only lad with 5 girls... you don't have get some grief when you get it that wrong, and they pull you out by the arse!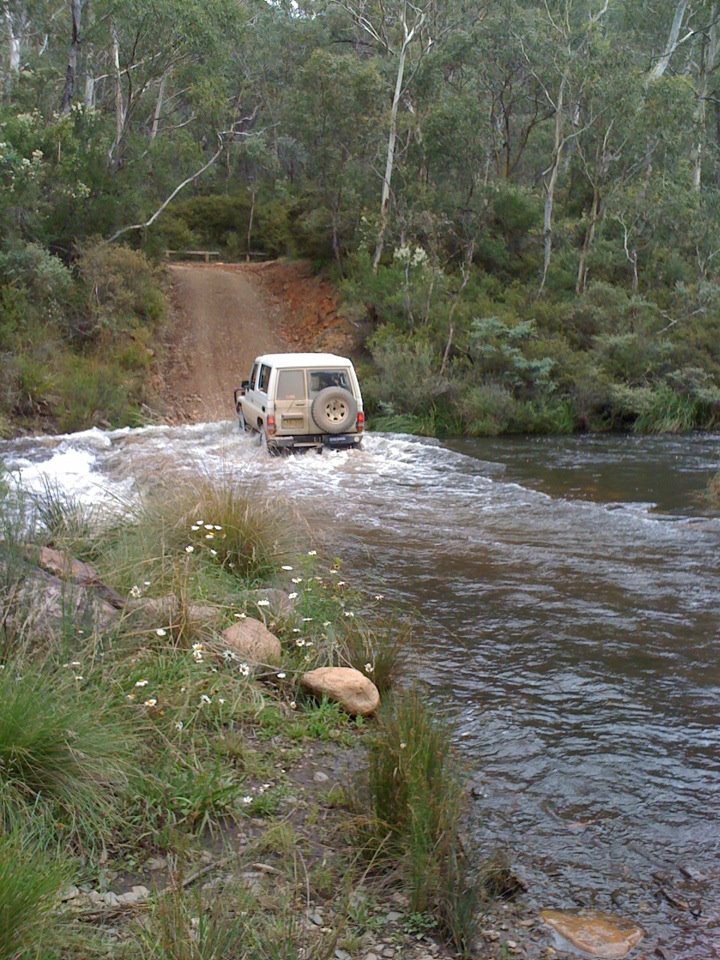 Oberon Stock Route; worth a trip down to Yerranderie, especially when you've bushed camped for the last 3 days and are in need of a shower before heading back into civilisation!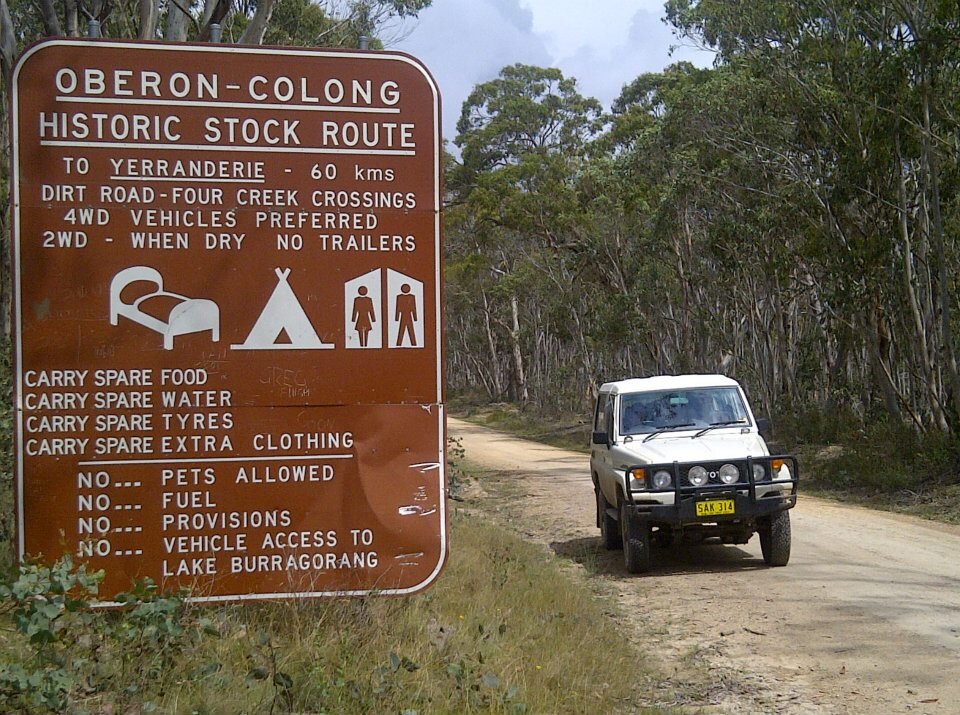 4WDing in Victoria, near Ballarat; there was a ditch that I couldn't get through (I crossed axles, and had no traction due to the shorter wheelbase, the LN146 and FJ60 I was with didn't have a problem) so I applied if you can't go over it, under it or through, go round it... Only problem was the only way round was up a big hill and back down again, where the end was about 1.5 car lengths long and the angle was a bit steep (circa 45degrees, or more)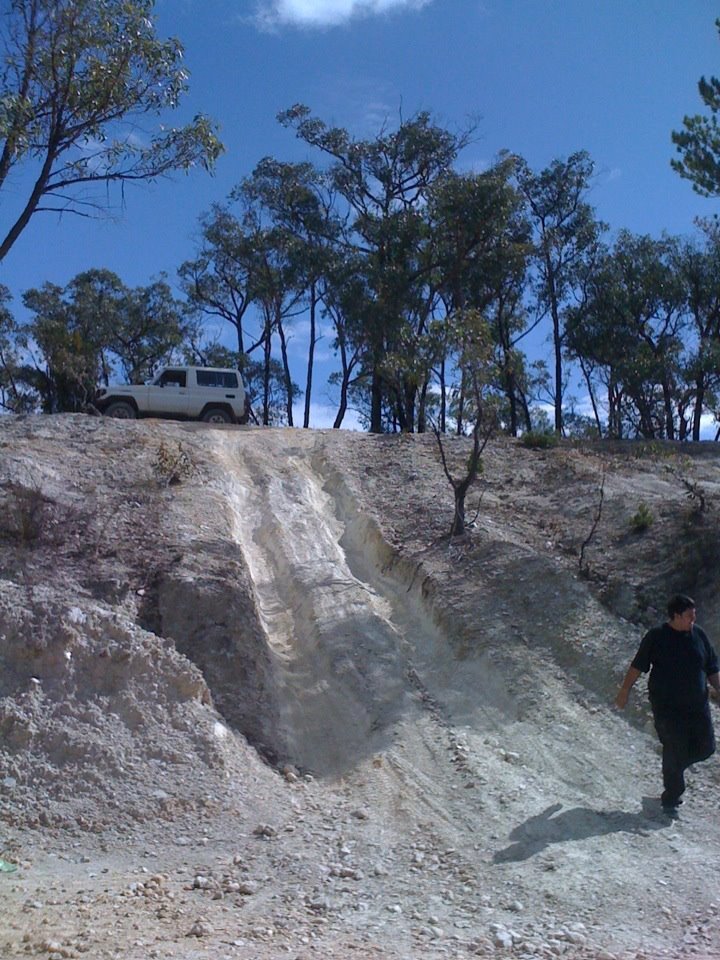 (not me in the picture; that's the driver of the LN146 who was working out how the hell I was going to get down!... L4-2nd IIRC was the option I went for)
I'll write up the trips properly, and with as detailed info as I can, for the Trips section.
Ed