Super Moderator
Supporter
Miles covered – 1975
Punctures – nil
Speed camera flashes – 2
Beers drunk – errrm
Bottles of wine – ahhh
Litres of gazoil, whoops forgot to record that
Wrong turns taken – about 3
Fun had – 100%
Sulks - a few
Tolls – not added up but they're ok I think
Hilarious mispronunciations leading to great mirth – none
Stuff that didn't work – none
Stuff that needs improving – big list
Annoying gearboxes – one
Breakdowns – none
Road side repairs 1 but three times
We left home in decent time on the Friday. Well, decent enough for us given that I have seen faster glaciers. The aim was to head down to Ipswich for a 40th birthday party (Mexican theme, Ariba Ariba - Gav would have loved it) stay the night and strike out for the coast the next day. One of the first things we noticed was no oil pressure. The garage forgot to reconnect the sender wire. I pulled over and sorted that.
All was going well until the truck developed a sort of squealing noise at higher revs under load.
The noise got worse and we had to pull in to Tesco in Martlesham Heath. I had a good look around but couldn't pin point the problem. As we got close to my Sister's the noise changed and I was pretty sure I'd worked it out. It was now more like a whistle and I could play a tune on it with the turbo. Pretty sure it was the EGR blanking plate blowing.
I spent some trying to re seal the plate and get some new bolts in. Couple of beers later and a lot of sweat it was sealed again.
We got a few Fajitas in and a few Sols as you do and went to bed. Good party.
Here's the view from my sister's patio
Not too shabby and that's only part of it. You should see the other 23 acres.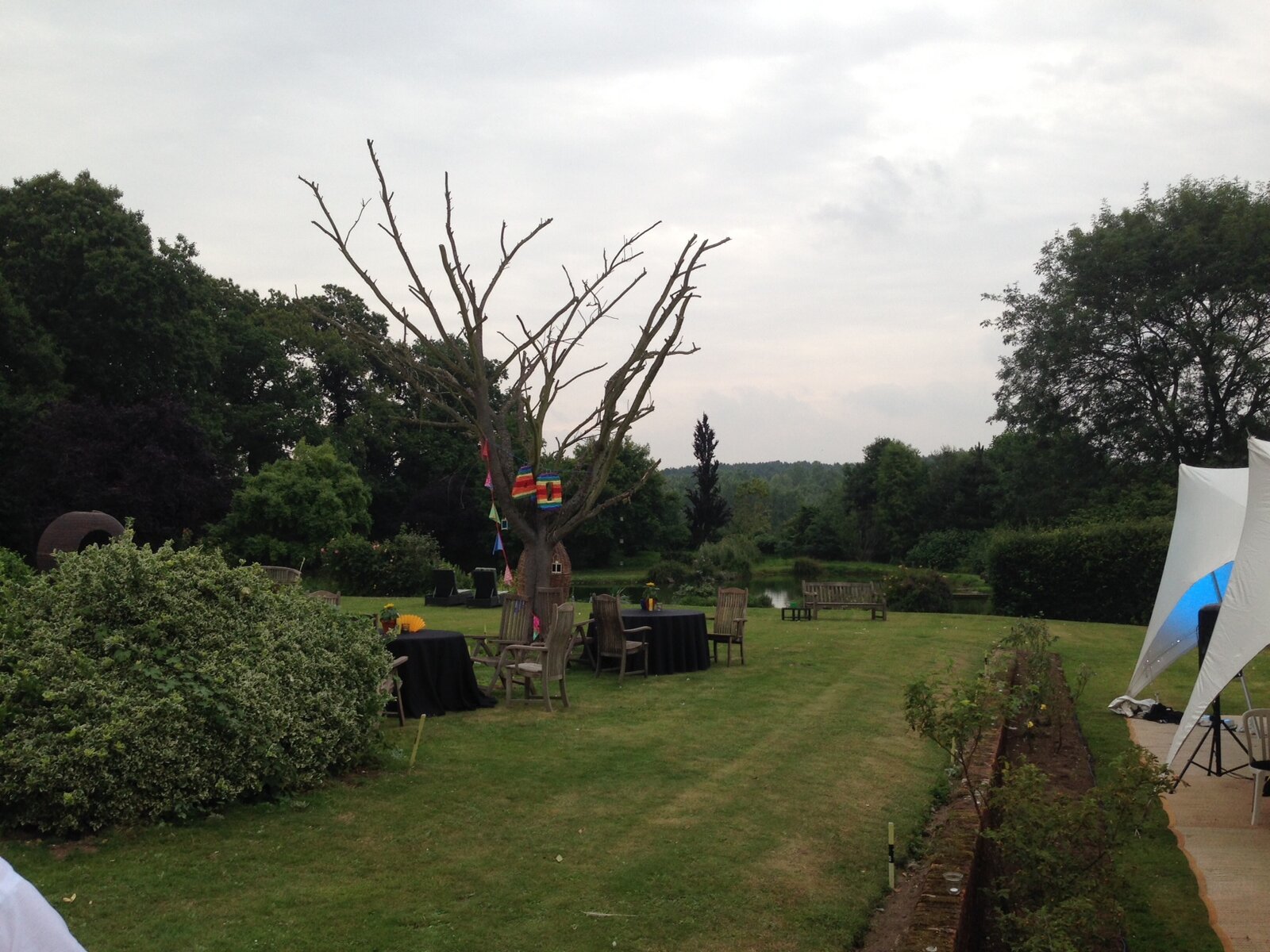 We got away in good time again and headed for Dover where we refueled had our last proper meal (any guesses?) and ransacked Halfwits for all the gasket maker, exhaust bandage, repair paste and other assorted clamps, strips and washers. However, before we even got that far a chap next to us on the Dartford Crossing pipped at us and shouted "You've no brake lights mate." So another pull in and a fuse replaced and we were off again. Oddly since doing that the cruise control has behaved perfectly so perhaps the fuse had a dry joint or crack in it. Update, cruise never faulted again on the whole trip.
We got to Dover in good time and went straight into the ferry queue. It was baking.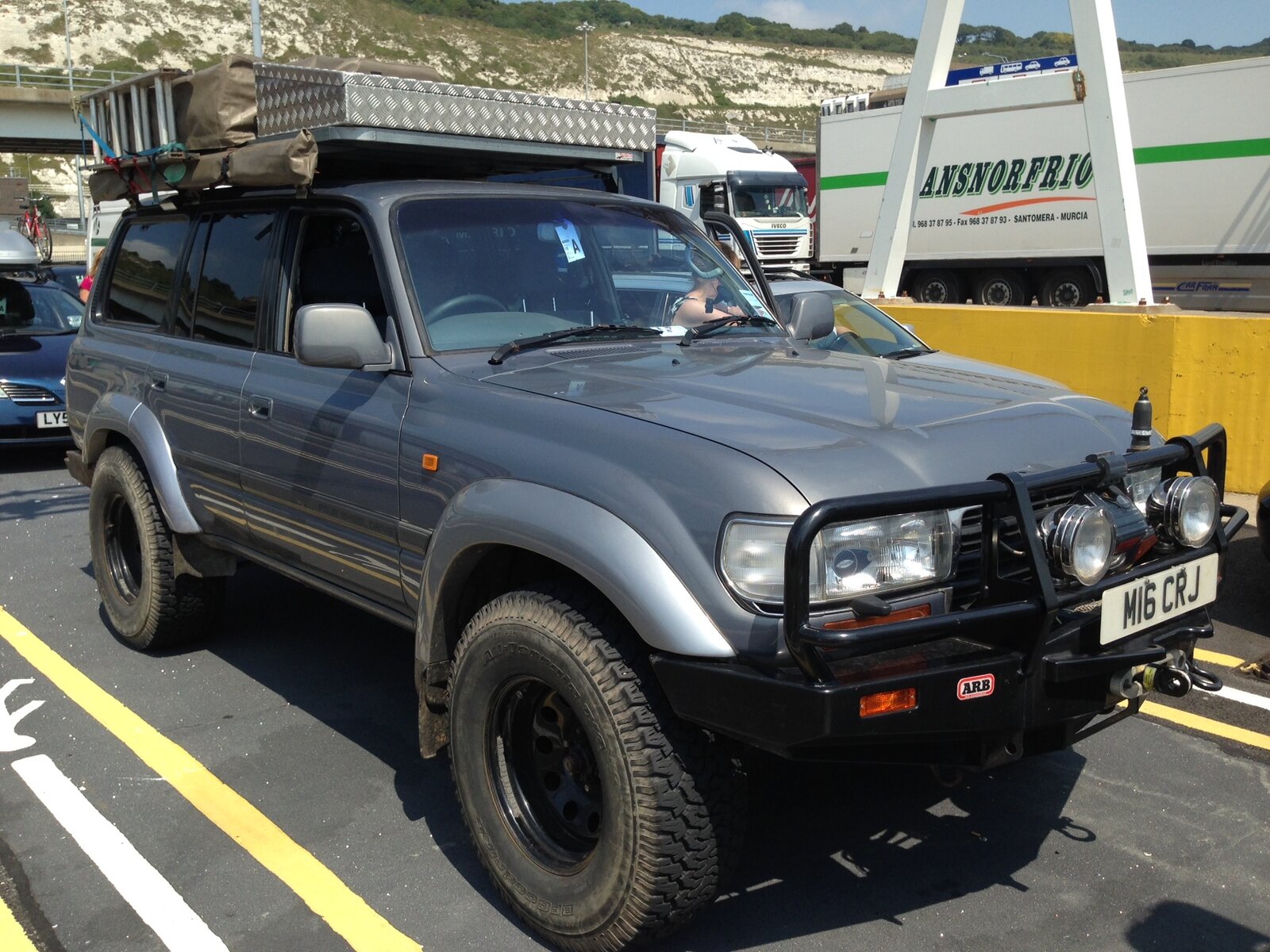 With the spare hour I decided to pull the plate off and gum it up good. I'd chopped the head off a longer bolt at my Brother in laws the night before but now was wishing I'd cut a screwdriver slot in the end so I could screw it in more easily. It wasn't really in enough fit my liking and I could see trouble ahead if I really went mad with the wrench. The paste was setting in the Sun never mind in the manifold. Sooo much better when we set off to embark. We'd booked the vehicle's height on line and been looked at by the person in the check in booth. We slotted in on line 119 with other travellers. As we got to the ramp there was a woman frantically flagging down anything higher than a roof box on an Astra shouting that we were all too high! Go figure.
Anyway, parked next to us were this couple in a Troopie who'd just come down from Birmingham after seeing friends who had an 80. They were Swiss I think. Gave them our web address.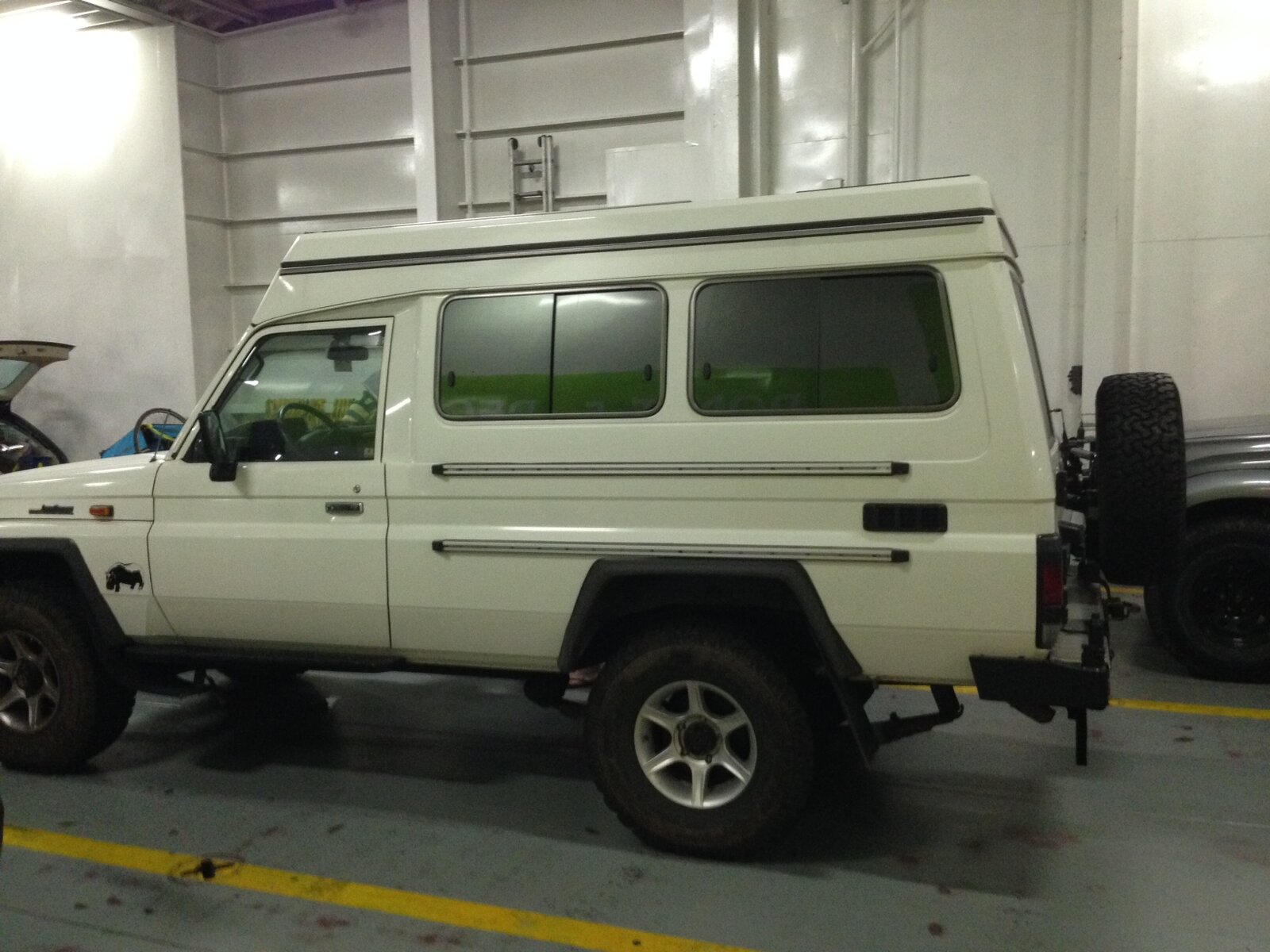 Crossing was a breeze.
Got off the ferry and it was so quiet we couldn't quite believe it. Got out of Calais really quickly and headed South. The Garmin Dezl thing seemed ok. More on that later.
We ploughed on making good time until the plate started to blow again. We lost so much power that we had to stop. So in the baking heat on a glowing engine I took it off and straightened it with a hammer against the bumper. This time I used exhaust repair gum. I also took a piece of exhaust hanger bracket (hey did we put hacksaw on the critical tools list, I did) but the holes were a different centre. I used the saw to cut a butterfly stitch shaped plate to go over the original plate and with some over sized repair washers on top I figured the plate was now quite well strengthened. We hit speeds of 80 mph on the A routes with no problems. But we were now behind and it was going dark.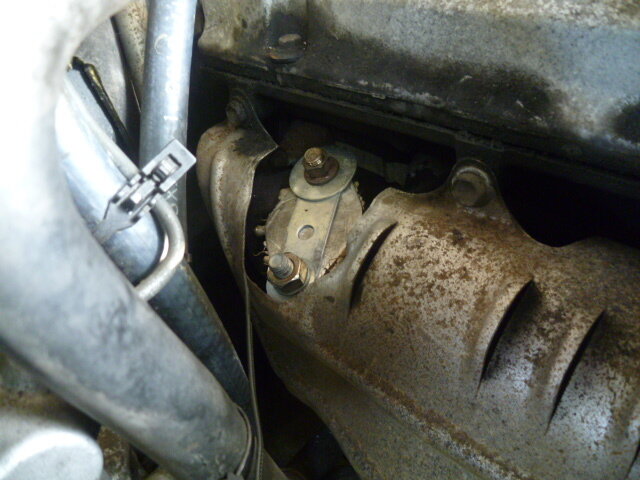 I won't go into too much detail over my navigator's preparedness but safe to say that personally I would have secured the actual location of the camp site. Maybe I'm just too fussy. It closed at 22.00 and was now past that. "Monsieur Je cherche le camping, c'est pres d'ici?" Was about the best I could manage. "Ahh" says the farmer "My Eeenglish very good" Well it was marginally better than his eyesight without his lunettes as he read the sheet we gave him.
We got there and Zut Alors they were still ouvert. Pitch. Glass of wine. Ham. Bed.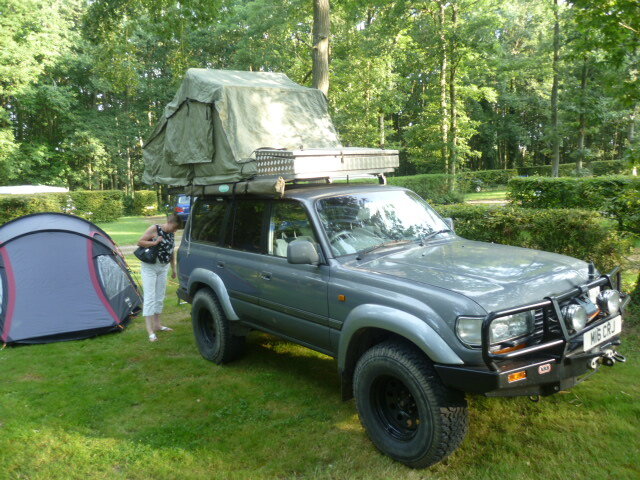 Next morning we got away ok but we're low on gazoil. Where is that sub tank when you need it? Garmin had us bimbling around on country roads for some reason. Not going to find fuel here. On a Sunday in France? I asked the recently demoted co-pilot to put fuel into the sat nag and it came back with 0.3 of a mile and en route. Yeah right. Bloody hell. Intermarche are open Dimanche Matin and sell fuel. £1 a litre too. We hit the shelves like it was a zombie epoxylipse and grabbed all the beer, cheese and Haribo we could carry. Awesome.
Back on the A routes we gunned it with only a stop for lunch at one of the Arie de whatever lorry stops.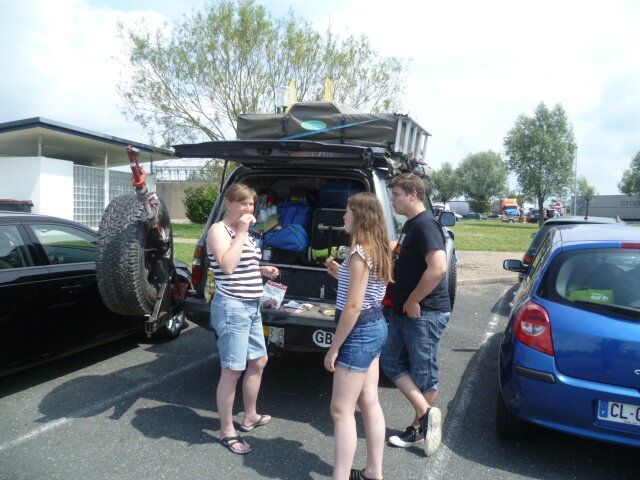 Still baking. Then just outside Limoges we hit a proper M25 style traffic jam.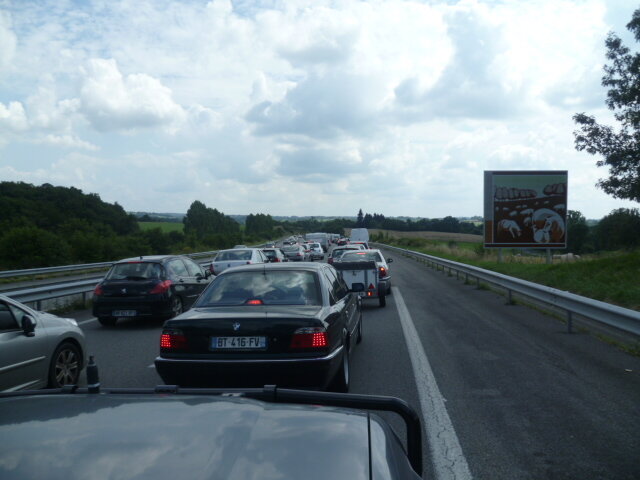 We lost an hour there but this time were able to ring the camp site and say we might be late. We actually got there in plenty of time. Booked in and set up, we tested a couple of beers had a nice Spaghetti Boll and sat up nibbling cheese until bed time.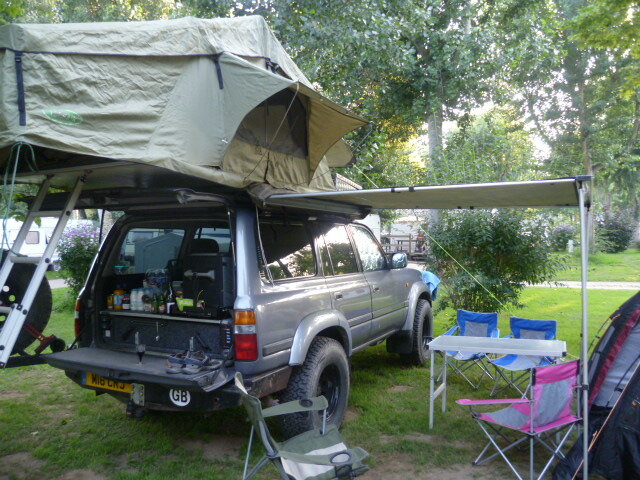 We had a couple of days here.
The car never missed a beat but the gearbox has to go I think. It's noisy and 2nd is a real pain. Now some clever gearbox oil might just ease that so it's worth a go. But longer term I do want to put the 100 box in. As the probationary co driver backed into the pitch I noticed we had no reversing lights. Another plug the garage missed perhaps? The new porch light was great to sit out with and the awning was a nice addition to stop the leaves from the trees landing in my beer. Later the next day I spent an afternoon grubbing around under the truck in a pink shirt (well I wasn't going to get one of my good scruffy ones dirty) trying to find the other end of the loom. Eventually I got it all hooked back up and working. Good scrub with Swarfega under the tap just as everyone woke up from their siesta. Great when everyone pitches in isn't it.
All evening and into today people stopped by to ask about the truck and the roof tent. One guy asked if it had a cellar! We smugly fried up a huge one this morning as people filed past sniffing at the bacon, sausage, mushrooms and eggs in the pan. English. Hah.
We actually woke to rain this morning but by lunch it had dried up and the Sun was out. The weather looked a little nervous actually and not sure what it was going to do. But we're canoeing down the Doydoin (yes I know) this afternoon so we'll be wet anyway.
So today started wet yes but by the time we were set up with le canoe etc it was fine and warm. Not much to say really other than it was a lovely way to spend a few hours drifting down the river.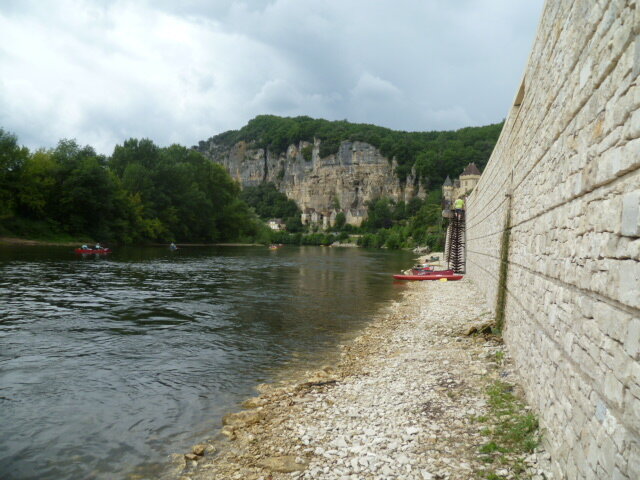 Other than the pouring rain we had for a bit, it was smashing. I was paired with my 14 year old daughter who took to it well and we had total control. Unfortunately my son had to team up with the retard who couldn't find her ass with both hands and a flashlight. We tried explaining paddling but lost her really at the concept of left and right. It continued to drip steadily all the rest of the afternoon which was a shame given how far we'd come for a bit of sunshine clearly it's not only the British weather that's messed up. Still, it's not cold.
Most likely pizza and a bottle of red for tea. The disadvantage of roof tent came through again today as there isn't much in the way of eating around here. Having to pack up the tent wet and drive somewhere would be a pain. Ok so a hard shell tent would be easier maybe but I don't struggle to put my RTT away quickly. It's a nice place to be as well with the covered porch entrance and three windows but if we were on our own, I'd probably use the Oz tent. But we've had this debate many times. It is different I think if there is only you or maybe two of you. You need less kit, well less of everything really. I think the answer to a holiday with the whole family has the word 'hotel' in there somewhere.
Yes it was pizza
On the subject of RTT the Terrain which was a very early model is showing some wear. It's not be used massively but has had a hard life, I don't think there is any argument that the HM it was copied from is a much better tent. If this had only ever been used in a dry climate it might have been better but I think without exception every trip it's ever done has been in the pissing wet.
Next day we went to the caves at Lesaux. Well a fibreglass replica. Ridiculous rigmarole to get tickets but a decent day out. Then we went back to Sarlat. Jeez medieval town? More like bloody Blackpool. What a beautiful place ruined. Friendly lass in the street selling different sorts of olive tapanade which we tried and thought was ok. We had a small dollop and a small bag of olives too. We went to pay and with a straight face she said €16.10 Are you f***** kidding me? Couldn't get out fast enough.
Raided another supermarket and got the makings of a another spag bol with stinky cheese to follow. Not bad and there was a band on too. Lass had a pretty good voice and we got Happy and Daft Punk with a bit of Goldfrapp thrown in. Sadly no Robin Trower or early Tull but hey the beer was watery and expensive.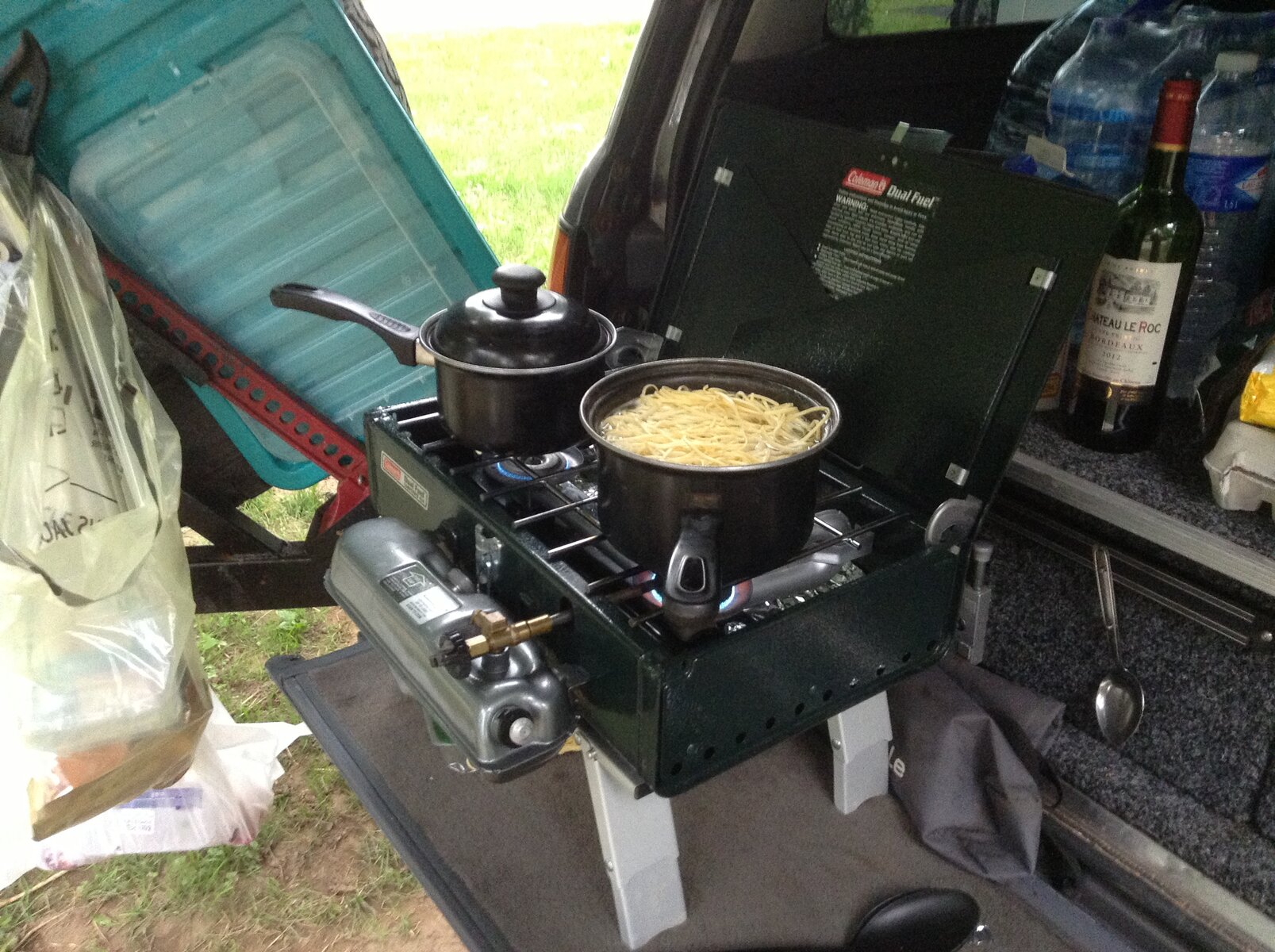 Weds morning looked brighter and we got packed away quite quickly. On the road before 10. Basically the drive out West and up the coast to Rochelle went without a hitch, car was singing and seemed to be positively sipping fuel. Still a sip in a very big mouth though. 1st and 2nd gear still a challenge though.
We pulled up at the camp site and I have to say where immediately underwhelmed. More like a refugee camp than a holiday spot. We were all packed in with babies yowling, kids on bikes screaming but yet again the Cruiser and tent pulled a crowd, we actually had people on the Autoroute pulling alongside taking pictures! I must get those longer springs on. I owe it to the fans really.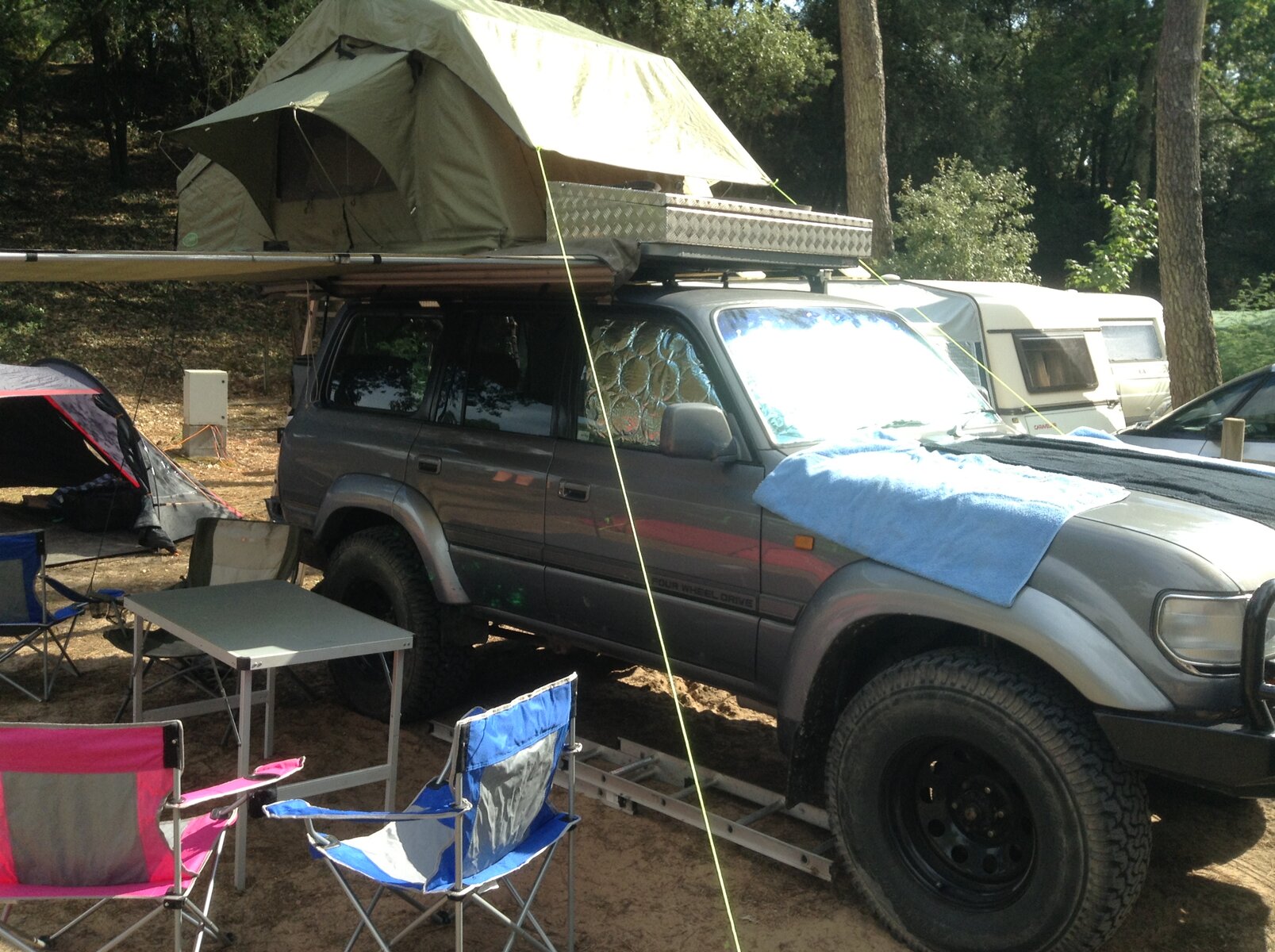 Thursday morning saw strong sunshine with our morning Cafe. The new Jetboil coffee press doing its thing. People here really have turned camping into an art form I think they actually move their entire homes with them. The toilets and showers are an odd thing for a Brit. If you've been then you'll know what I mean. Not sure I can relax having a pee whilst people of all ages and genders stand with me queuing for a shower. No one seems to care but me. Must be me then. Where's the Galic shrug emoticon when you need it?
Aujourd'hui, il fait beau. In fact very beau indeed. A perfect day with clear blue sky. Hot sun but lovely cool shade. The air doesn't hear up here quite as much as in the Greek islands where we usually go. What did we do today? Well slap up fry for brekkie of course but then 3/5th of bugger all. We just lazed around, which frankly I needed. Ok I did check the oil and repack the fridge but other than that really nothing.
The silver window shields from the green one and the rear tints did a great job of keeping the inside cool so that helped the fridge I guess. I think I might replace the aux battery under the bonnet with another optima yellow top and find a way to fit some sort of battery selector switch not that we have power issues on this trip but it's an idea. I should have brought the CTEK too I suppose as everything here has electric hook up and I could have just set it to 12v supply and run everything from the mains.
Ok so we felt really guilty and decided to have a spot of lunch and head to the beach and do nothing there instead. This went really well until it was time to come back to the camp site and continue our arduous work there instead. The solar shower bag was good and warm so I used it to wash the windscreen. It's all exhausting stuff this hardcore over landing. I just wanted to prove that it worked. And it does.
A note on France so far. Put simply, where is everyone? The roads are practically abandoned at times, I keep looking in my mirrors and there's no one there. The only aggressive drive was a Brit in a Jag trying to overtake before we'd even got past the car next to us. OK an update on that. Where is everyone except SATURDAY. Holy shi1t. Saturday in holiday season is like Armageddon. Queues at the tolls are mental. Oh yes, you can get a tag but the queue on the road to get TO the booths is the same. Any longer and there'd have been tables and chairs set up on the hard shoulder. I don't quite get the over taking thing. Is there some significance to leaving your indicator on once you have pulled out? Normally once overtaking you cancel it, then indicate to pull in. Not here. You leave it flashing. Huh? BTW never experienced the a la droite rule thing. The roads were so empty we didn't really have to do anything. Mind you to constant speed limit changes were tiresome. Up and down like a whore's drawers. Got flashed at once when most definitely under the limit so it might have been at someone else, but on the last night we came off an intersection at what I thought was the right speed only to find it had changed – maybe when I blinked and I got flashed for sure. Maybe 50 mph in a 43 zone. Bang to rights but when you are watching everything else that's going on in the rain as it gets dark, it's easy to do.
Restaurants are empty although at the prices I can see why. £ is good against the € at the moment and it's just as well, it is very pricey. As always the supermarkets reflect true prices but in the bars and eateries it's not attractive.
That evening we found a restaurant that looked something like. We had a decent meal although 2 meals arrived and were eaten completely before there was any sign of the other two but they were ridiculously busy and screwing up quite a few tables. We're British so clearly had the good grace not to complain. We went back to camp made a dent in the wine cellar and cheeseboard and went to bed. Nice little spot I suppose once you could shut out all of the tourist crap.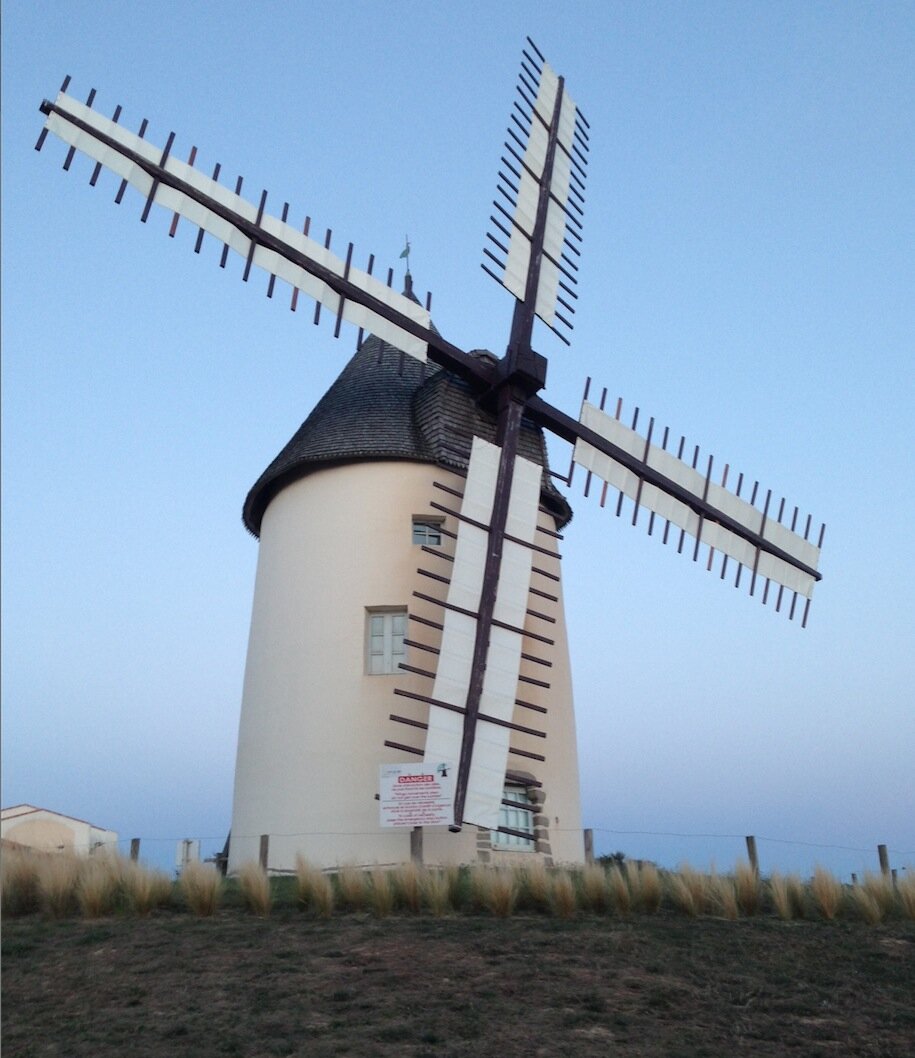 Up bright and early on Friday, fed packed and wheels up for 10.00 but we'll have to be quicker than that on Sunday in order to get the ferry. Another fuel stop and supermarket sweep and we were on the way to Nantes. Our destination today was basically the Omaha beach area.
Other than a detour to see Mont St Michel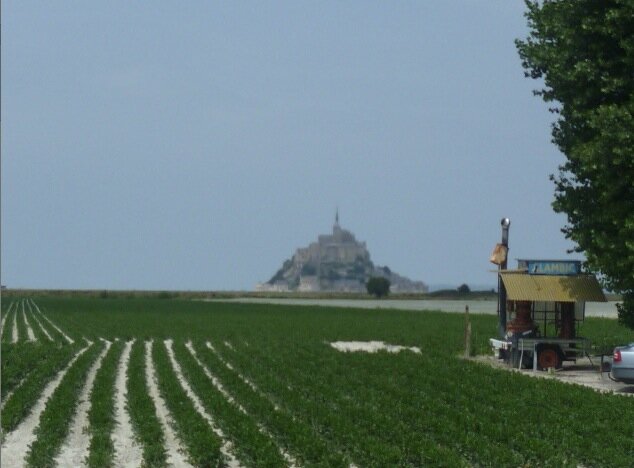 and a spot of lunch on the motorway we didn't stop. We got to the camp site on time and were set up in a very practiced fashion with the first gawker only taking minutes to arrive. This was a very nice site; they even supplied toilet paper! Very swish for France. Weather warmish but cloudy in the evening with forecast for some rain demain matin.
View attachment 14425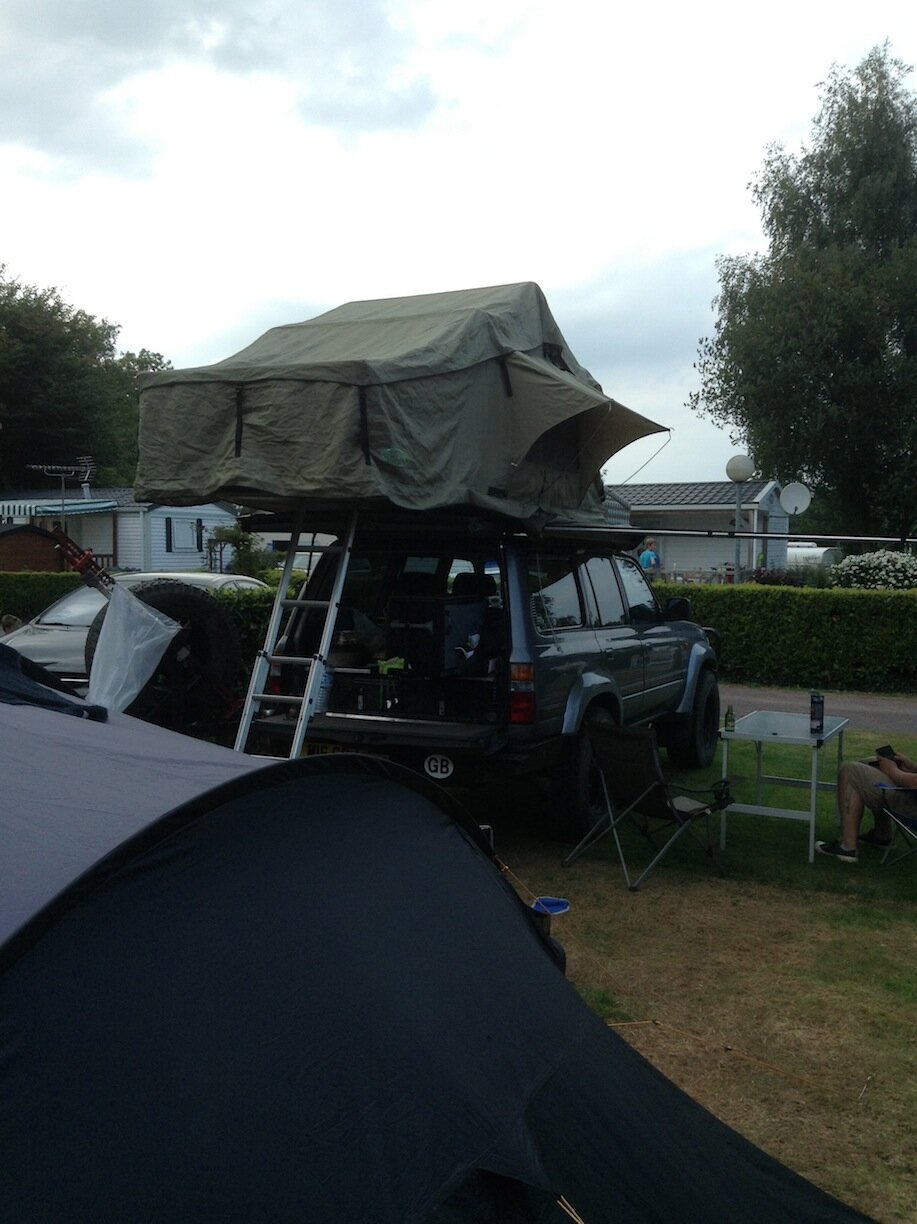 Non of the camps sites save one have had free wifi which is disappointing. Not cheap on the paid service either so we have just not bothered with mails or anything this week which takes a bit of getting used to. Just Googling stuff is something you take for granted. Life without e-mail. Actually the longer you leave it the less important it gets.
On Saturday, we went the short distance to Omaha beach and on up to Aramanche. We stopped along he way and looked at battle sites etc just trying to imagine what it must have been like to hit the breaches those 70 years ago. The kids didn't really get it but I found it quite an experience. From the shooting that I do, I know what it's like to have bullets whizzing by me into the safe backstop of the sand as I do target duty in the butts. Having that fire pinging off concrete, steel and obviously bodies whilst being forced to advance into it must have been simply terrifying. The sounds and smells of those days must surely have changed people forever.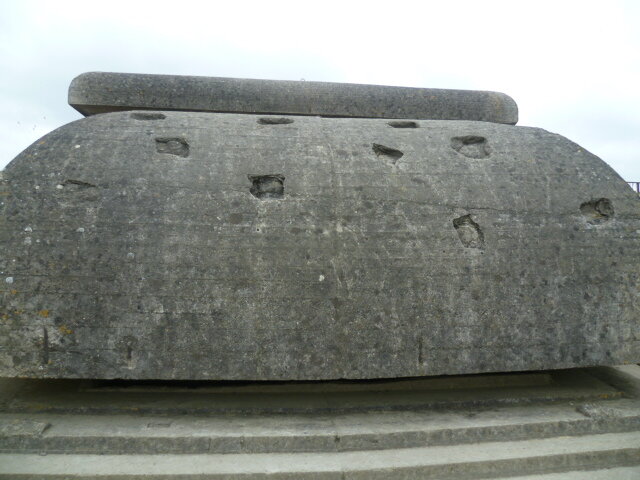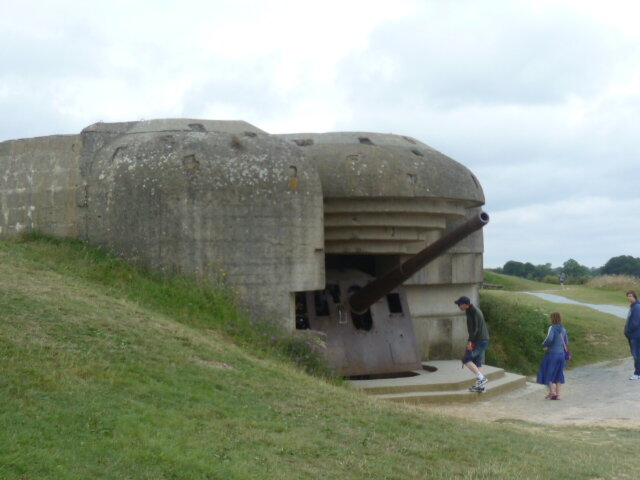 And so to our last night. We didn't have a site booked for the Saturday and were going to chance it near Calais. But it turned nasty and the rain was pretty torrential. I took the executive decision to book into an Ibis in Berck and just keep everything dry so that we could get away pronto in the morning. Actually it brightened up and was fine the following morning but a night in a proper bed was a bit of a luxury and did give us a really good getaway. We filled with cheap fuel for the trip back and headed for the ferry port. There's really nothing to say other than at the loading ramp we were stopped by a very concerned looking boat driver bloke who said we wouldn't fit under his deck. His right hand man just waved us in. See we had loads of room. Silly man.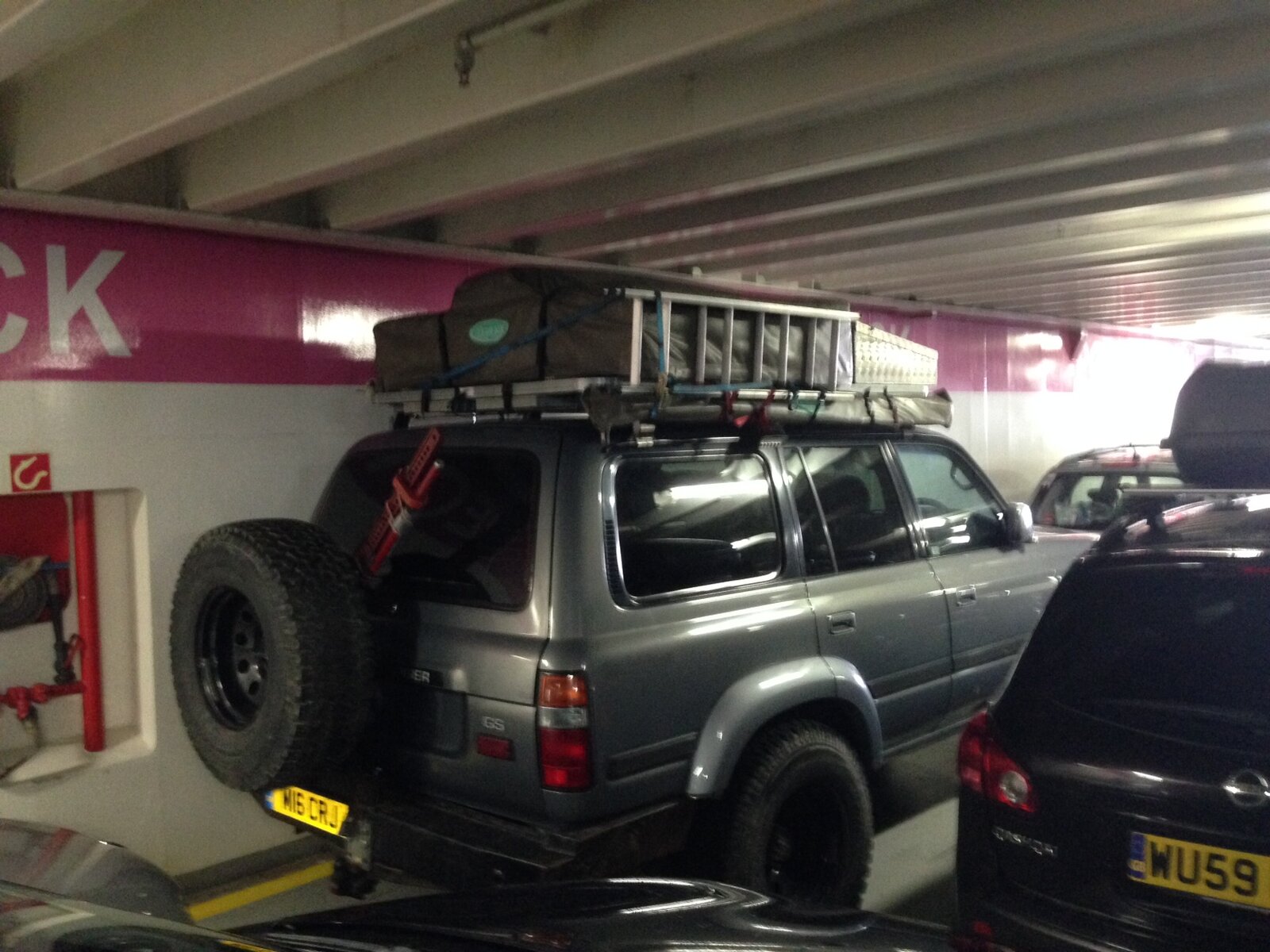 So off at the other end and other than some shocking Brit driving on the M1 and a stop off to see Lazz about stuff we made it home in one piece. Got some servicing, rattles to investigate, alterations and additions to make over the next few weeks and we'll be ready for action. It's certainly helped me to know more about what I need on the truck and where to put it. Some decisions to make.