Joined

Aug 4, 2012
Messages

38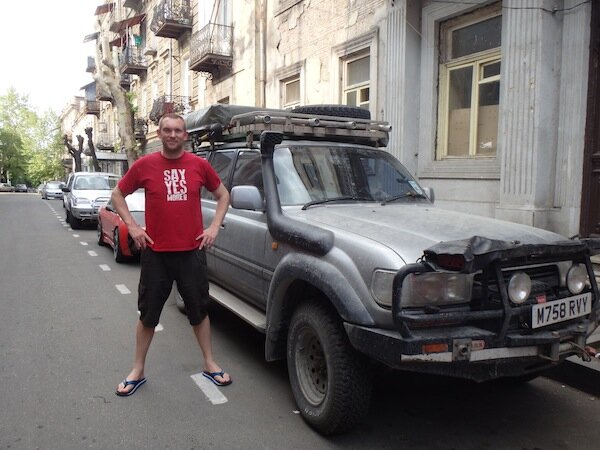 ​
Hello Everybody
I'm an adventurous chap 14,000 miles into 25,000 plus mile solo overland expedition through Central Asia in 2013. Join Boris (my car), Kiwi Ted (my mascot) & I on our adventures.
I'm in the middle of a unique overland 4x4 trip from London to China and back, through Central Asia. I've travelled from London to Russia where I joined the Silk Road and headed east to China though the "Stans". I have since travelled south via Laos to Malaysia in South East Asia.
After shipping the vehicle to India I will head west via India, Nepal, Pakistan, Iran, and Turkey and finally Europe to London. (If anybody lives on my route or has any contacts let me know. I'd love to meet up - I will be travelling through the area between Sept and Dec 2013)
This is a unique expedition that combines one of the great overland journeys with a fantastic historical narrative. I will be taking on the challenge to share this amazing adventure as the expedition unfolds.
Expedition Vision
To explore present day Central Asia along the former Silk Road routes, retracing the steps of the players and the historical events of The Great Game. Through the interaction with the local people, cultures and landscape, the aim is to compare and contrast the historical version with modern day Central Asia.
It's been one hell of a journey so far. Crazy ferry rides across the Caspian, cricket matches in northern Afghanistan, and China's worst storms in 30 years to name just a few of the stories adventures.
To celebrate completing the first 3 legs (of 5) I've just release my first expedition film trailer. I thought you might like to see it. I'd be interested to hear any feedback on the trailer.
http://www.youtube.com/watch?feature...&v=sE-_kZ9eT7M
Here is the link to the blog that went with the clip.
http://bigoadventures.com/2013/08/19...y-west-awaits/
You can follow the journey via my
website
,
facebook
,
twitter
and
youtube
links in my signature.
Cheers
Jonny / Big O
www.BigOAdventures.com
p.s Apologies for the late update to the trip report section. Better late than never.