I guess I am pretty proud and chuffed with my Landcruiser, can't deny that, so I'm happy to post up a few words and pix as I go.
It has been a long love affair with Toyota's best ever model produce. Not that I'm biased at all, but they stopped making bloody great Landcruisers in 1997. So I grabbed one in '99 whilst they were still fresh.
It was a top notch example, Toorak Tractor as we call them, and had very few miles but a few little extras.
For the past 15 years to date I have been tinkering, modifying, tweaking and driving it as much as I can.
I still have a few more tweaks lined up, I just have to fit them in between playing with everyone else's. But here's the score sheet to date.
TOYOTA Landcruiser 80 series 1997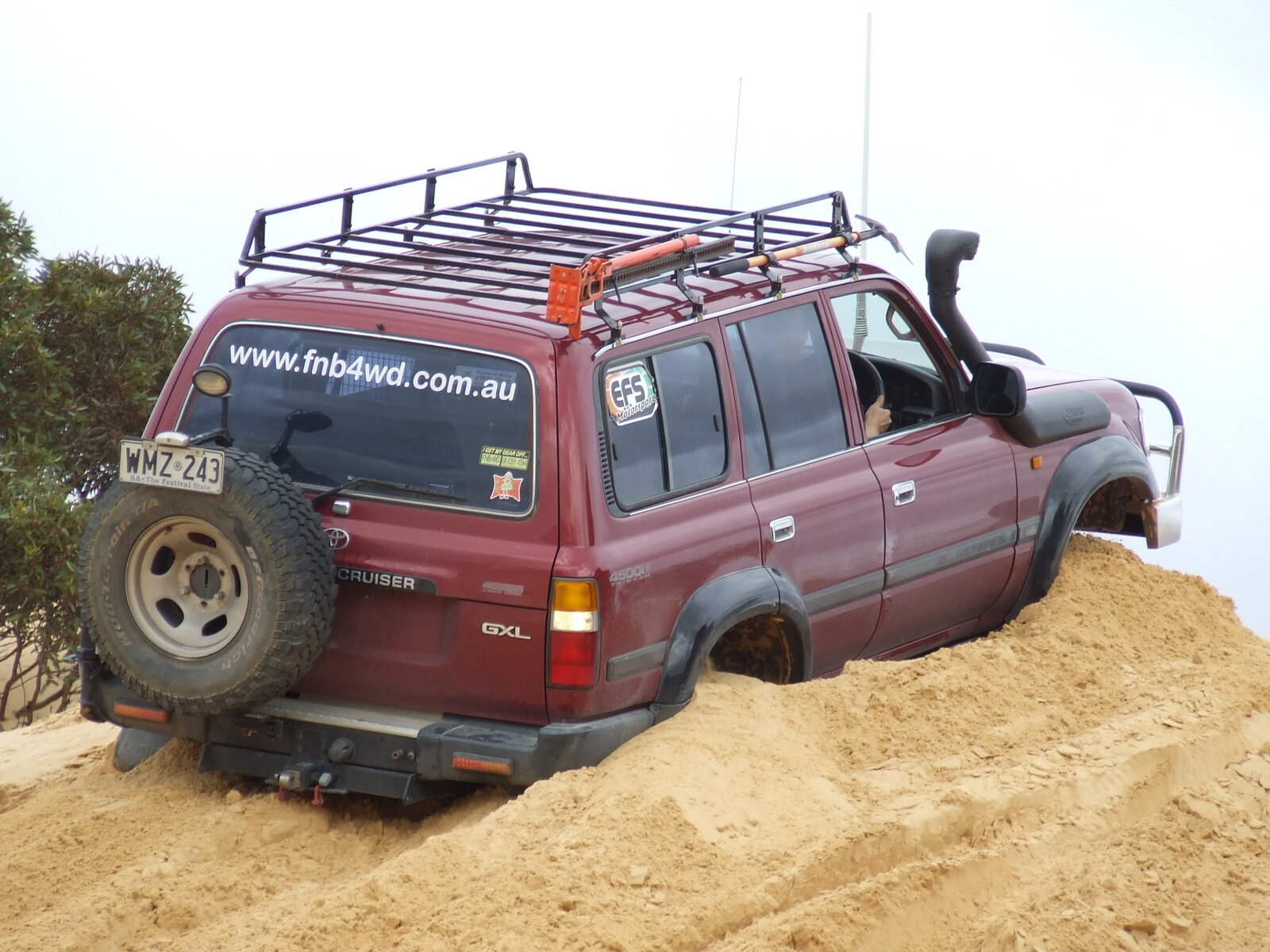 Colour is Mica Red.
It has the thirsty 4.5LPetrol 6cyl with Auto trans.
Some suspension was fitted when I bought it, since changed out, plus unbeknown to the dealership it had a front locker. There was no compressor, lines or switches to suggest a locker was fitted, but a barb was protruding from the front diff. It also had a Safari snorkel, alloy bullbar, and new All-Terrain tyres. An all round tidy unit.
Engine modifications include a Sprintex twin screw supercharger, latest upgrade system running 4-5psi, plus piggy Back ECU module, it runs 8 fuel injectors with the two extras at the new crossover pipe to the intake manifold, running 16deg BTDC advance as well, plus special custom tweak to the fuel pressure/flow rate electrical control system, new leads, performance plugs, and a Unifilter, headers in a tri-Y configuration and 2+3/4 performance exhaust system.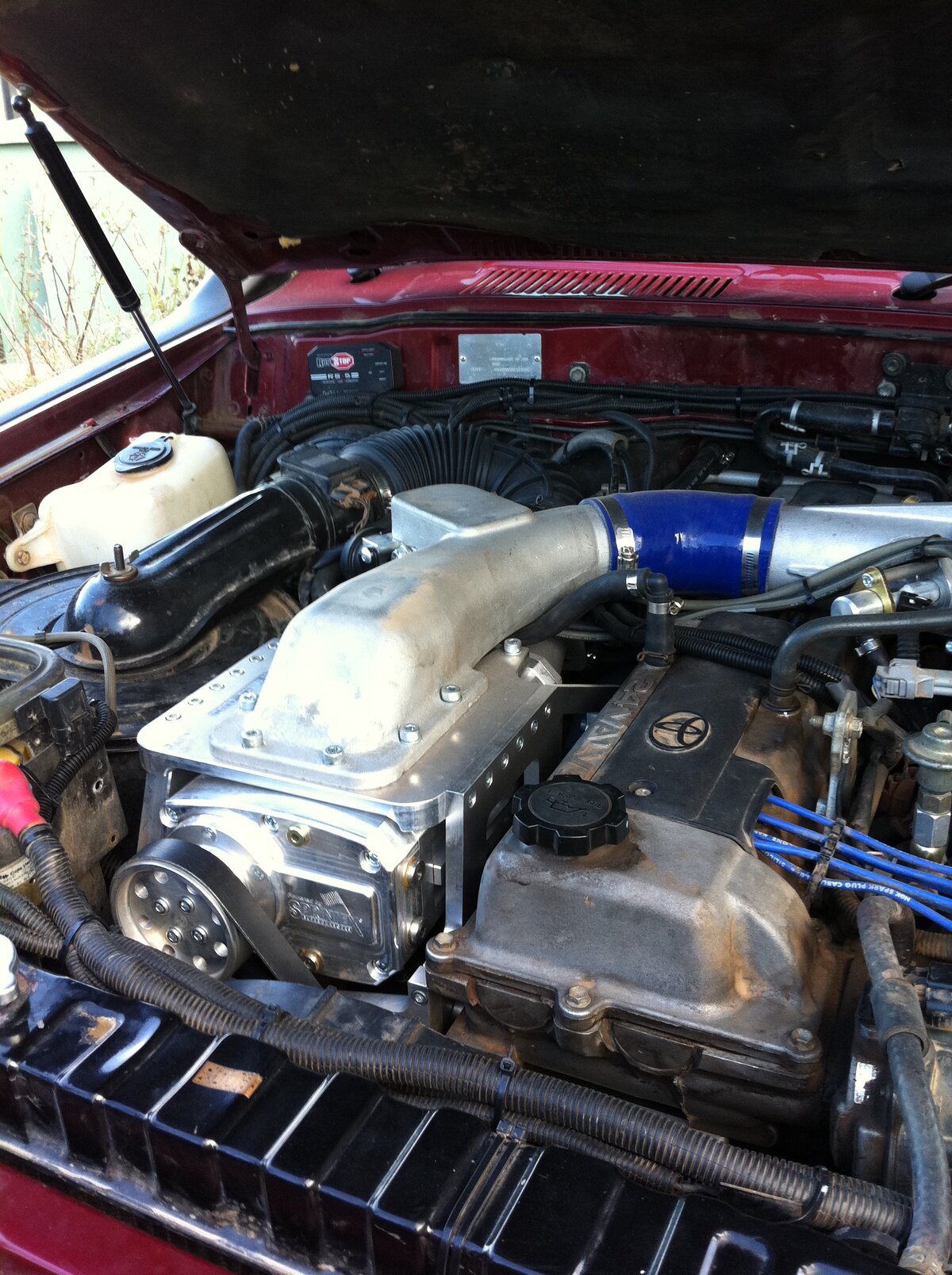 The auto has been adjusted to tighten between shifts.
I have retained the full time 4WD system, I prefer it because I invariably go off track mid-tour for a bit of fun and find the in-cab control of all drive systems is pretty handy.
I run a twin temperature sensing module tapped into the engine block and auto trans housing so I can monitor real time temps on the go.
Full metal tank upgraded heavy duty radiator, electric thermo fan with custom temperature sensing and manual/auto fan in-cab control.
A Glind shower system is plumbed into cooling/heating system, with Shurflo pump pickup at side of vehicle, outlet under-bonnet for connect the shower at the front in a shower tent.
The old girl now sports ARB Air Lockers to front and rear with diff breathers fitted. I have ripped all the diffs apart over the years, so they are all well assembled now. The lockers are operated with an under bonnet ARB air compressor, and plumbed in with the other air system for back up if needed as the ARB units have a history of popping compressor tank O-rings at the wrong time.
Suspension wise it runs EFS XTR Shock Absorbers, EFS springs rated to the weight for a 2+1/2 lift, EFS adjustable Panhard rods, EFS Castor correction bushes at 3.5 degrees, EFS Heavy Duty Elite Steering damper
Chromoly Heavy Duty Drag Link, Chromoly Heavy Duty Track Rod, Heavy Duty 32mm rear sway bar, and 30mm front bar, custom extended sway bar links and mounts. And finally Polyair Bags in the rear coils for a little extra support.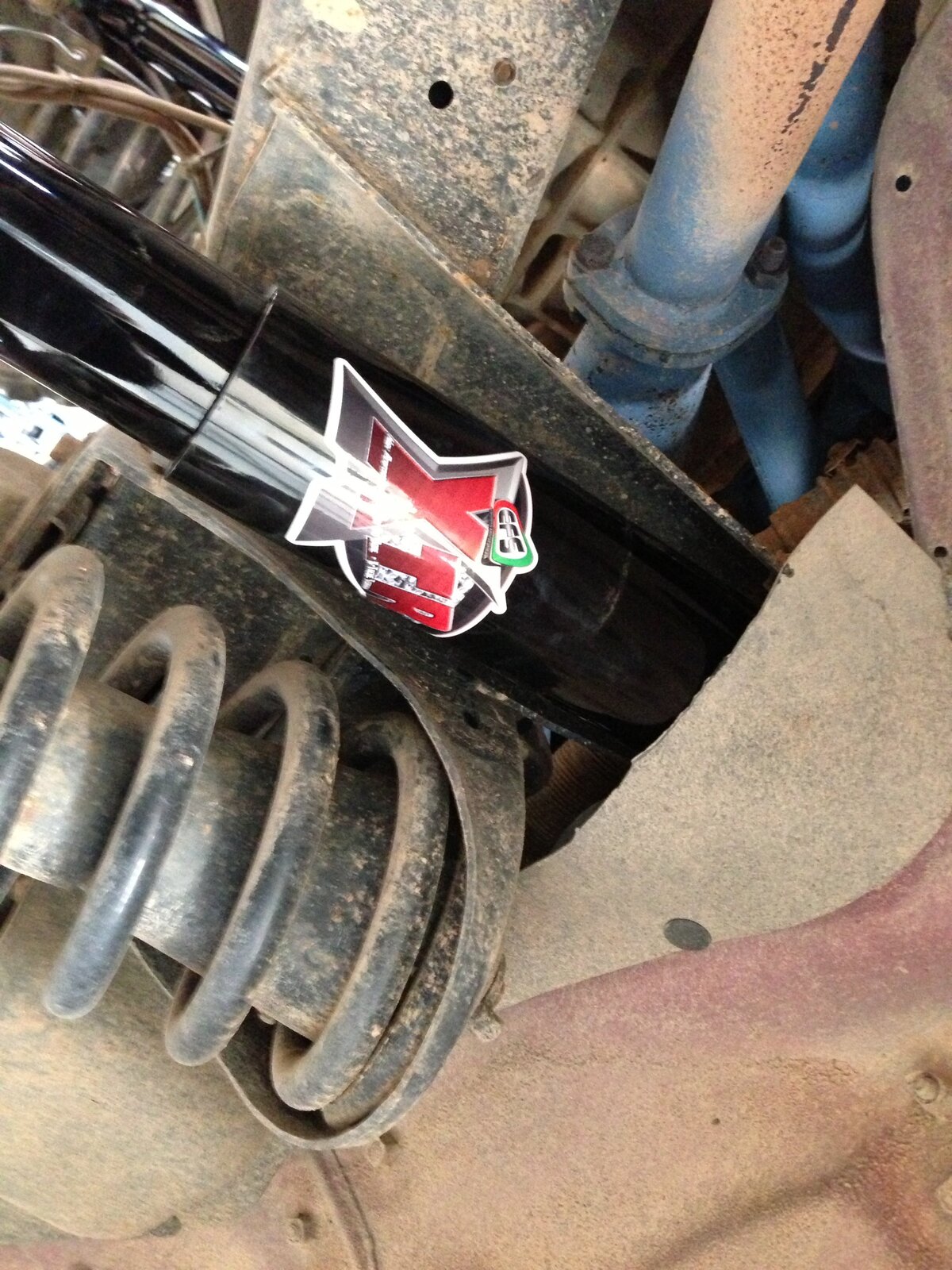 For stopping I run DBA Cross Drilled and Slotted Gold Series Rotors with Heavy Duty Bendix Pads front and rear
My preferred brand of tyres are BF Goodrich MT Mud Terrains KM II in a 285/75R16 format running on 16" x 8" 'Thunder' Allied Alloy Wheels. They are monitored by a Tyredog system which covers all six tyres, plus some.
She got a new paint job in 2008 except for the roof, due to numerous scratches and "other issues" from a trip through the hardest parts of North West Tasmania. That's another story.
The bar is an alloy ECB unit which has been modified with fitting of a custom winch cradle behind to house a special one-off chromed fully bridged 12,000lb T-Max winch running Dyneema rope, with an RF remote control handpiece. It also has a custom made stainless steel clutch handle. The winch is also in-cab controllable for power feed, and integrates with the triple battery system for best use of the twin Optimas. The bar has also been customised with 'fog light and indicator inserts. The 'fog' lights themselves have been modified with 55w HID system that takes out retinas. Them in conjunction with the 35w HID Lightforce XGTs and upgraded 35w HID hi-beam lights provide sufficient light for night driving. The low/hi beams have been upgraded to Xenon Blue lamps which are a nice white to match the HIDs.
A custom made front number plate was made to allow all that gear to sit in behind and still access the clutch handle, etc.
The Sill bars are customised TJM Outback slider bars (suit 100 series IFS) but cut and modified to suit my 80 series chassis
Rear is a BOSS Twin Wheel Carrier, custom number plate bracket, custom high lift jack holder.
Roof Rack is a modified steel rack to suit my Hannibal roof top tent, with front rack area. It is about to be ditched in favour of a custom made alloy unit by us, which will still have the raised back section for the ten, with under tent storage racks for the solar panel, ladder, plus lights and other bits. An Open Sky awning is boled to the side on custom brackets as well.
The underside has a front alloy plate manufactured in-house to protect lower radiator and oil coolers and steering damper
Recover gear includes an Extreme 4WD Kit, including snatching and winching equipment, drag chains, etc. Outback First Aid Kit, Hi-lift Jack, Jack-mate, Jacking base, Tools, Lighting, belts, hoses, twin built-in compressors, airlines, air tanks x2, Tyre repair kit, hitch receiver, etc......
Rearward facing lights is 10 watt LED work light set up for camp set ups, but wired to come on auto in reverse and manual in-tailgate switching for camping. The tailgate and interior is also home to a few other LED lights, all switchable where we need them.
The Triple Battery System (third sealed AGM in back) is made up of Custom built alternator, 120amp with custom set point regulator, pulley, & brackets, Twin D31A Optima 900CCA/1125CA Batteries (Sealed AGM 100Ah in storage system) Heavy duty Redarc battery management unit between the Optimas and winch system controlled, Standard Redarc battery management unit, Custom electrical system to control 3 batteries and winch control, Pulse Technology pulsing devices per battery Winch Isolator solenoid, in-cab control, Self-jump start control, in-cab control, and LCD in dash display, independently displays all three battery voltage conditions
Interior includes Stratos 3000LTSS suspension seats, fitted with air adjustable lumbar support and armrests, cloth material fitted with custom made sheepskin covers, including arm rests.
We run a VMS in-dash media system, with unique camera, integrated into existing speaker system.
There is a custom made over-head console which looks pretty original in style, except for the array of switches and bits.
I have two radio systems fitted, a GME Tx3440 Remote Mic control UHF + AE5001 windscreen glass-mounted Aerial and a GME Tx4400 1DIN UHF + AE4705 Aerial with the main unit fitted behind the console.
Bluetooth phone connectivity built into VMS unit for mobile phone
For GPS navigation I use the VMS in-dash media system includes Route66 navigator voice guided street mapping and OziExplorer Topographic mapping system.
The drawer system is custom built as well and insludes
Customized Half Cargo Barrier
Black Opal Drawer System (our brand at FNB 4WD Supplies) custom unit;
Two rear facing drawers (LED strip lighting fitted to upper tailgate for access at night)
80L Waeco fridge/freezer, wired to 12vdc/240vac (food)
35L Waeco fridge/freezer, wired to 12vdc/240vac (important stuff – beer)
Under-fridge polished red hardwood slide (for sandwich making/beer stand
Two LHS facing drawers, and one lockable storage compartment (LED lighting to view at night) at back passenger side door access
Two top opening storage compartments, internal LED lighting auto switched, also with special front opening emergency access door
Map and Book holder, and side storage panels
Two removable drawers, self contained, with easy slide-in lock-in system (jocks & socks drawers can be taken out & put into tent)
Third battery, SLA, built-in to drawer system, pulse tech device fitted
Xtreme Pulse 240vac Battery Charger built in
Fully compliant 240vac electrical system built in, RCD protected
Stainless Steel 316 custom built water tank, 60L capacity
Flojet pressure switched water pump
Water tap, moveable neck, with built in switch in tap and an isolating LED switch as well
LED water level gauge
In there is also a massive 160lpm air compressor (tyre inflator) running the alternate air system
300W Inverter modified sine wave
Three Bottle Wine Rack, with two glass holders (unofficially named
'Emergency Handbrake-release lubricant system'
.....)
1.5kg Fire Extinguisher
Portable UHF holder, charging system for the twin hand helds
And a few spare 12vdc outlet sockets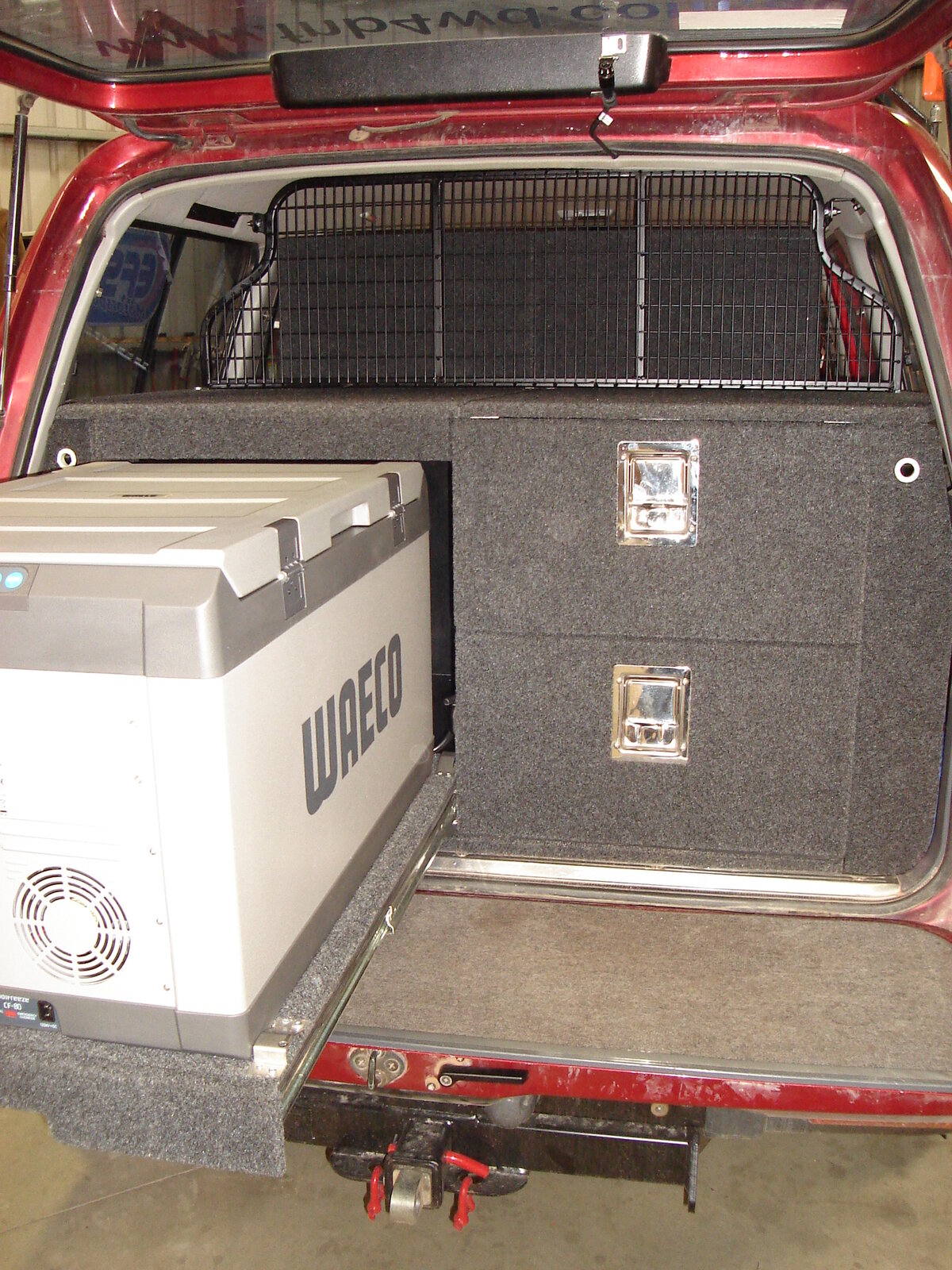 To keep all this moving over long distances I run two long range fuel tanks, LRA long range tank with 150L petrol capacity and the old sub tank is now a 175L petrol capacity, with a total fuel capacity of 325L
For the air system she has twin custom air tanks to underside between chassis rails and bodywork, plumbed to 2[SUP]nd[/SUP] compressor, and linked via in-can controlled solenoid to the ARB air compressor running diff lock and extra tyre outlet, linked with T-max compressor system.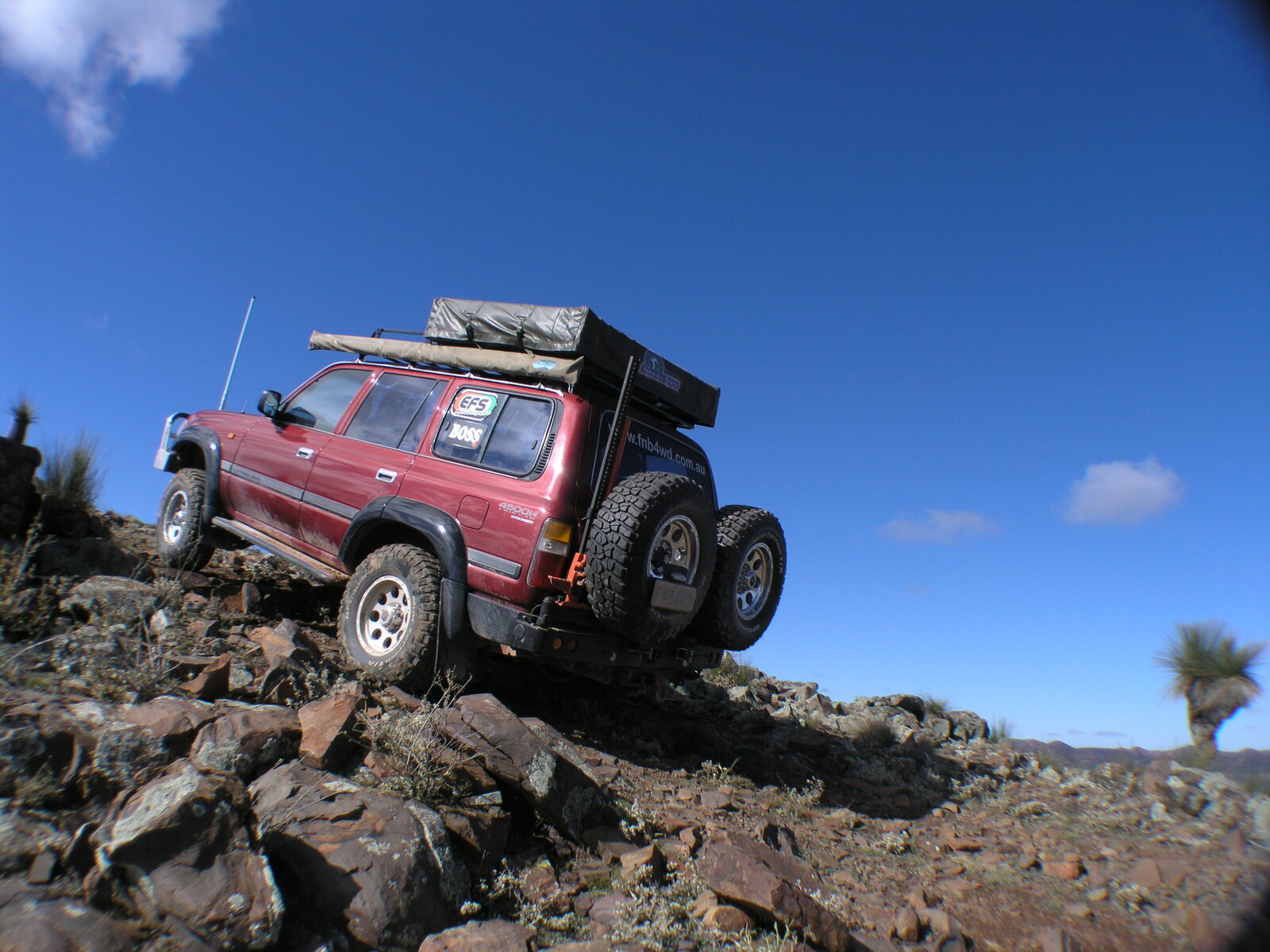 I think I have covered most bits, but will throw some photos in later as I go to give you something to look at instead of reading.
I hope you like my ol' girl.
Cheers
Chris
Last edited: